Are you looking for a way to add style, beauty, and a little shade to your outdoor space? A pergola may be exactly what you're looking for! W.A. Zimmer installs pergolas by TEMO. With a unique curved lattice roof, gorgeous columns, and a rich architectural style, TEMO pergolas offer better protection from the sun.
What is a Pergola?
A pergola is an outdoor structure consisting of columns that support an open roof of beams and rafters.  Free-standing or attached to your house, these versatile structures can create a one-of-a-kind living space over your deck, patio, or any outdoor area to create a one-of-a-kind outdoor living space.
You may have seen vinyl or wood pergolas. Our pergolas are made from extruded aluminum to add beauty and shade without the maintenance of other materials.
What is a Pergola Used For?
Pergolas define your outdoor space as well as add shade and privacy. They are perfect for entertaining family and friends or making a comfortable area to lounge under at the end of a day.
Pergolas provide protection and shade from the elements – Pergolas offer comfortable shade from UV rays, while still giving you that enjoyable outdoor experience. It is the best of both worlds.
Pergolas are extremely versatile – Do you want a patio pergola? A pergola on a deck? A pool pergola? We can help you create the outdoor living area that you've always dreamed of. Pergolas come in a variety of sizes, styles, and options and will provide long-lasting beauty to your backyard.
Pergolas can add significant value to your home – It's very well-known that well-landscaped homes can be worth up to 20% more in real market home value. Wouldn't it be nice knowing that you were creating a beautiful space for your family to enjoy the outdoors and adding real value to your home?
Why Build with W.A. Zimmer?
Our goal is to save our customers time and money
All our pergolas are custom built from high-quality material—no kits!
Going on 45 years in business means that we have strong supplier relationships—our ability to order truckload quantities gives YOU the best pricing!
Because we keep material in stock, your job can be completed in weeks*!
*Please consider that we are currently in unprecedented times and may have higher lead times due to manufacturer and shipping delays.
Transform Your Outdoor Space
Fill out the form to schedule an onsite estimate. One of our pergola designers will come out, discuss your needs, take a look at your space, measure, and give you a price on a new aluminum pergola.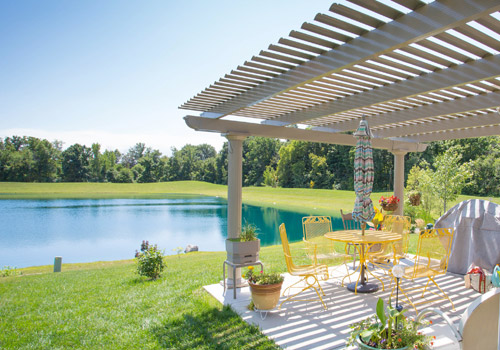 STANDARD PERGOLA
A standard pergola is a beautiful solution for partial shade. This open beam design lets in some natural light and is a perfect setting for outdoor lights or climbing vines to accentuate your landscaping.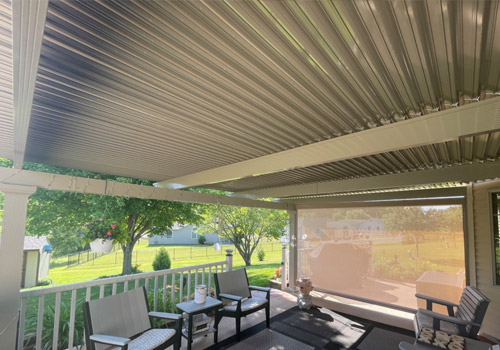 OPERABLE PERGOLA
The most popular way to add style, shade, and protection from the elements. Motorized louvres on the roof open and close to give you the choice of partial sun or complete shade with a push of a button.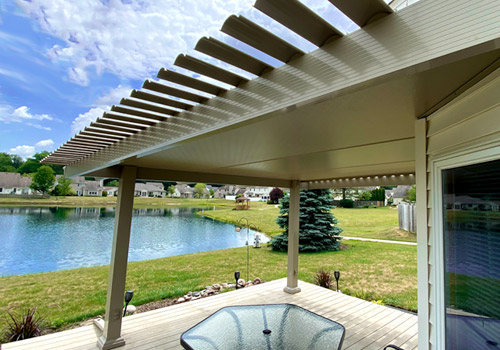 DRY COOL PERGOLA
This unique structure combines the functionality of a patio cover with the beauty of a pergola. Insulated center panels help protect your space from rain, snow, and sun to regulate the temperature of your area while sleek beams keep the traditional pergola look
Pergolas in Fort Wayne, Huntington, Warsaw, South Bend, Southwest Michigan, & Surrounding Areas
Are you ready to add a pergola to your outdoor space? Contact W.A. Zimmer today to schedule your free in-home estimate. Our pergola contractors will come out, talk with you about your needs, show you pergola designs, take a look at your space, take a few measurements, and give you a free, no obligation quote on your next outdoor home improvement project. Contact your local pergola builder today to get started!
We install pergolas in Fort Wayne, Huntington, Warsaw, Angola, Kendallville, Marion, Wabash, South Bend, Southwest Michigan, and surrounding areas including lake homes.