RETRACTABLE AWNINGS
Manual or Motorized Awnings

Is your deck or patio too hot? Does your outdoor living space need shade and protection from the sun? We've got you covered! W.A. Zimmer sells a variety of retractable awning styles, options, and fabric choices that best suit your family's needs and put you in control of the sun or shade. Add shade and style to your deck, patio, or pool area with a Sunesta retractable awning.
Types of Retractable Awnings
Manual Awnings: these are traditional awnings that require a little bit of "elbow grease" to move in and out. They still offer incredible shade protection with just a little bit of labor required. They have a fantastic look and are available in a variety of styles and sizes to accommodate your deck, patio or other outdoor living areas.
Motorized Awnings: this is where technology has made life easier. Motorized retractable awnings are exactly that – motorized. Meaning they offer the ability to open and close the awning, controlling the amount of sunlight you and your guests receive, with the simple push of a button. As easy as that. They still offer an incredibly stylistic component that is sure to accentuate the unique features of your outdoor living space.
Retractable Awning Styles
Manual or motorized awning styles include: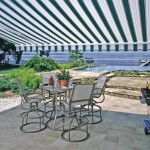 The Sunesta
The Sunesta is one of the best retractable awnings on the market today. It is available in up to 40 feet and in projections up to 14 feet, 8 inches and in more than 150 fabric styles, which includes 4 different frame colors. Best of all, The Sunesta awning style is manufactured with extreme durability and a solution-dyed fabric that prevents sunlight fading and the negative effects of mildew and mold.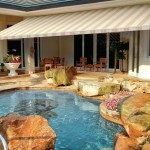 The Sunstyle
The Sunstyle style awning is available in widths up to 40 feet and projections up to 11 feet, 6 inches. It is customizable with a large selection of fabrics and extra features, but more of an economically feasible decision for your patio, deck or other outdoor entertainment areas.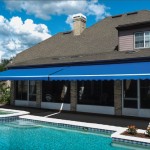 The Sunlight
The Sunlight is the most economical solution in retractable awnings and is available in widths up to 24 feet and projections up to 10 feet. You will still get a lot of the same incredible features, at a fraction of the cost while still providing shade, comfort and an outdoor getaway for you and your family.
Retractable Awning Features
Sunesta Awnings are custom made with the following features:
crafted in many sizes to fit many spaces, from narrow to wide and everything in between
Available in more than 150 fabric styles, including solid colors and patterns
Fully retractable, although one of our models can be installed in a fixed position for a more traditional look
Feature 100 percent solution-dyed synthetic fabric, which won't fade from sun exposure nor will it succumb to a mold and mildew takeover
Exceptionally easy to clean, simply wipe with a damp cloth and voila – a clean awning
Backed by comprehensive warranties on frame, fabric, and motor
Full-Service Awning Contractors
We measure, we install!
We do all the measuring and take responsibility for the right fit.
We will consult homeowners about what they want to accomplish, all options.
We offer 150 colors and styles of marine grade acrylic fabric to blend with your home.
The manufacturer offers a lifetime warranty on the frame and 10-year fabric warranty.
Warranties are non-prorated, in other words, they do not ask you to pay half if half the time is up.
There are five frame colors available and five valance options
We offer wind sensors, sun sensors, and more.
Awnings are installed by professionally trained EMPLOYEES, not subcontractors.
Retractable Awnings in Fort Wayne, Huntington, Warsaw, & Surrounding Areas
Are you ready to add a manual or motorized awning to your patio or deck? Contact W.A. Zimmer today to schedule a free in-home estimate to discuss your shade needs. Our retractable awning contractors will come out, talk with you about your needs, show you designs and fabrics, look at your space, take a few measurements, and give you a free, no obligation quote. Contact your local retractable awning installer today to get started!
We install retractable awnings in Fort Wayne, Huntington, Warsaw, Angola, Kendallville, Marion, Wabash, and surrounding areas including lake homes.
See a Sunesta Awning on Your Home
Want to see what a retractable awning will look like on your home? Fill out the form to schedule a free in-home estimate to view a rendering of what an awning will look like over your deck, patio, or pool area.
Awning Inspiration
We're proud of the work that we do. Check out our awning inspiration gallery below for shade ideas and to view some of the awnings we've installed in Fort Wayne, Huntington, Warsaw, Elkhart, South Bend, Bluffton, and surrounding areas.