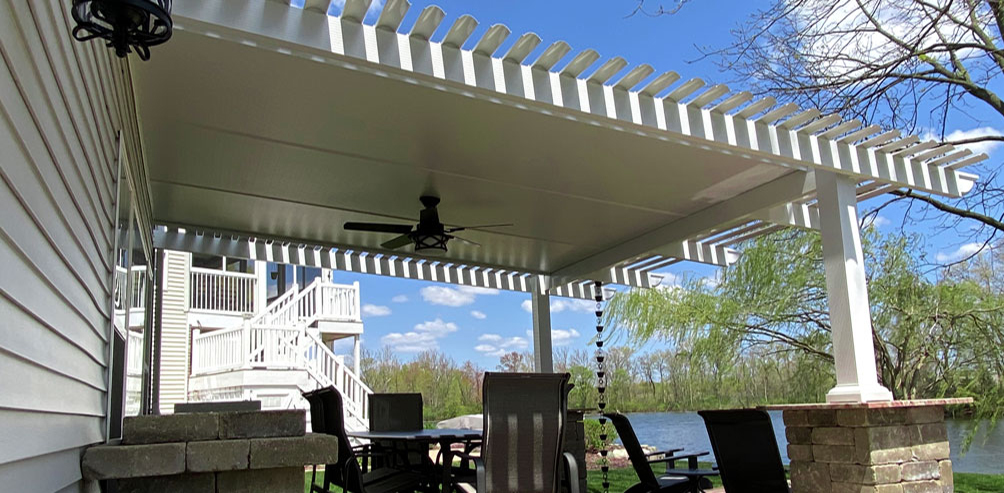 When you think of sitting outside enjoying the summer sun, a pergola is probably part of the picture. There's truly nothing better than enjoying a good mix of shade and sunlight when the summer is hot. Pergolas give you just enough shelter to sit with family and friends in the outdoors and enjoy a few cold drinks on a hot day.
But did you know that pergolas can be just as enjoyable, even when the weather changes from summer to fall to winter? With our new cool dry pergola, you can extend the season and extend your time outdoors.
What sets this unit apart from the rest? Let's take a look at why this is one of the best all-season pergolas.
What Sets a Cool Dry Pergola Apart From a Regular Pergola?
Cool dry pergolas are all about protection from the elements. A traditional pergola provides some protection from the sun, but an open roof can let in some rain and snow. This makes it more difficult to enjoy your pergola when the weather is less than perfect. A light rain shower will have you packing it in and heading indoors. For homeowners who love to sit outdoors, this can be difficult.
The cool dry pergola makes it more comfortable to sit outside and enjoy nature by keeping you warm and dry. You don't have to lock yourself indoors when you see those rain clouds coming or during a light snowfall. The closed roof keeps you dry. It's almost like having an extension on your house!
Use It More Often
When investing in a quality outdoor product like a cool dry pergola, you want to make sure that it will be used. You also want something that looks beautiful and adds value to your home. With the Cool Dry Pergola, you get both! One of the great things about a cool dry pergola is that it can be used at any time of the year. It doesn't matter if you're experiencing rain, shine, or snow, you can use it.
Imagine sitting outside sipping coffee in the morning on a warm summer day or enjoying a fall lunch under it protected from the light rain. Cozy up with a cup of hot cocoa in the winter and watch the snow fall.
A Cool Dry Pergola gives you more for your money since you can enjoy it year-round.
The Features of a Cool Dry Pergola
One of the best features of these pergolas is that they can control the temperature. The thermal roof deflects the heat in the summer and can help to keep it warm under your structure in the winter.
The panels, as well as the covered roof, help to stop the rain, hail, and snow from entering the pergola. You can sit inside and feel relaxed knowing that your Cool Dry Pergola has you covered.
The way that the roof works is similar to how a patio cover works. It's a nice touch that doesn't stand out or affect the beauty of your pergola.
The curtain wall that runs below the outside roof edge gives you the option of adding retractable screens. Retractable screens give you protection from bugs and adds a touch of privacy.
Reading to Install a Cool Dry Pergola?
When searching for the right pergola, the weather is an important factor to consider. Living in Indiana, it's not uncommon to see many different conditions throughout the year … or even week!
If you've been searching for the perfect outdoor set-up to compliment your home, a Cool Dry Pergola might be exactly what you've been looking for.
At W.A. Zimmer, we custom build our pergolas to fit your outdoor space. Give us a call today or visit our showroom to find out more about our Cool Dry Pergolas!