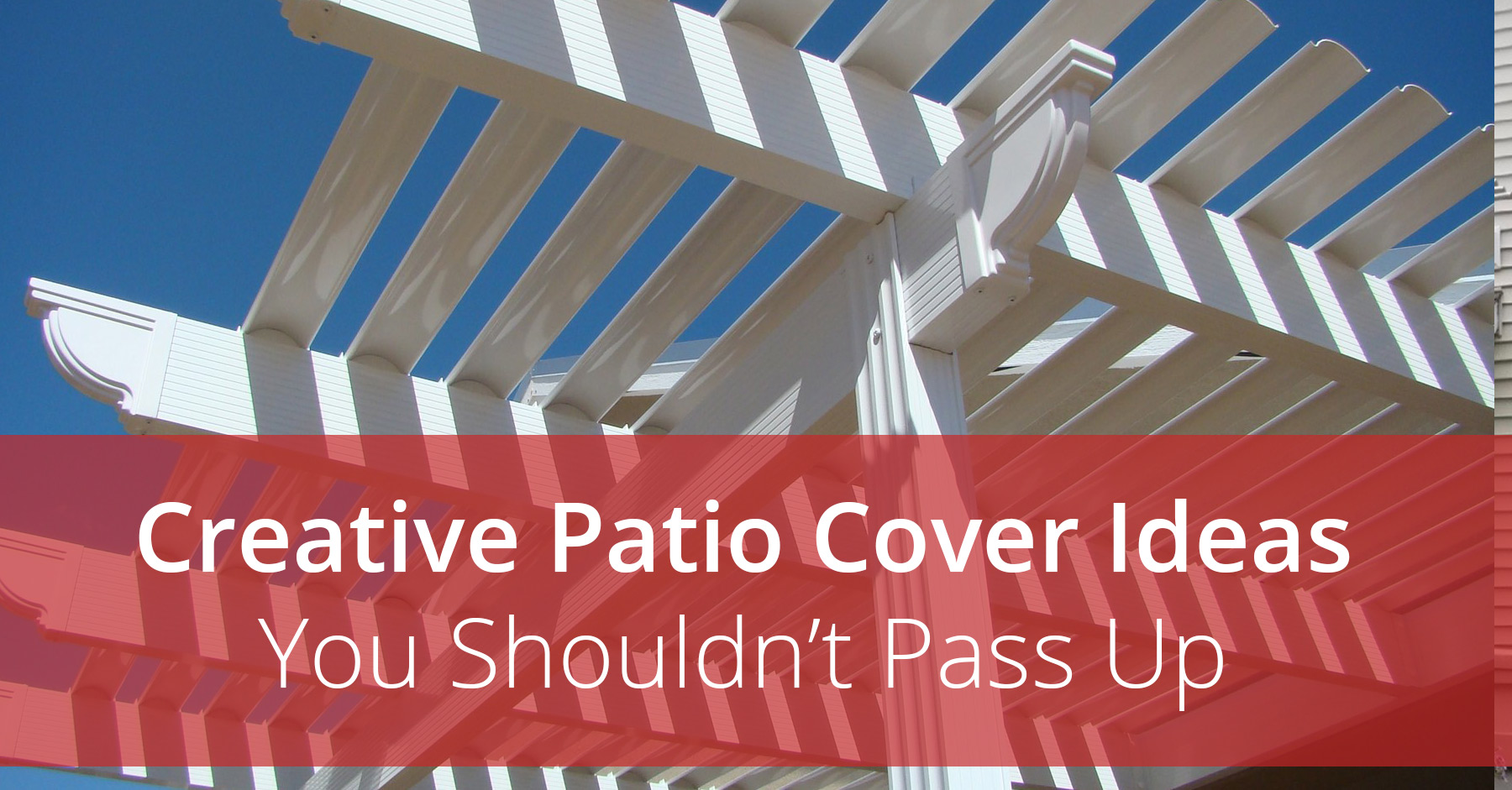 Does your patio need a makeover? Patios are a great addition to your home but are often left unused due to weather. During the summer, it can be too hot to sit outside baking in the sun. In the winter, it can be too cold. And, with the amount of rain we've had this year, our patios have been a little too wet! Instead of spending time indoors, why not invest in a way to cover your patio to make it more useable, comfortable, and look great as well?
The right patio addition can transform any outdoor space into a comfortable, stylish area for family and friends to relax and spend time together, no matter the weather.
Check out these patio cover ideas to see how you can improve the aesthetic and comfort of your patio.
Patio Covering Ideas
Covering your patio not only protects against the weather but also enhances the look of your space.
Whether you want a permanent patio roof or a retractable awning, there are a variety of ways you can incorporate a patio cover to improve your patio.
Awnings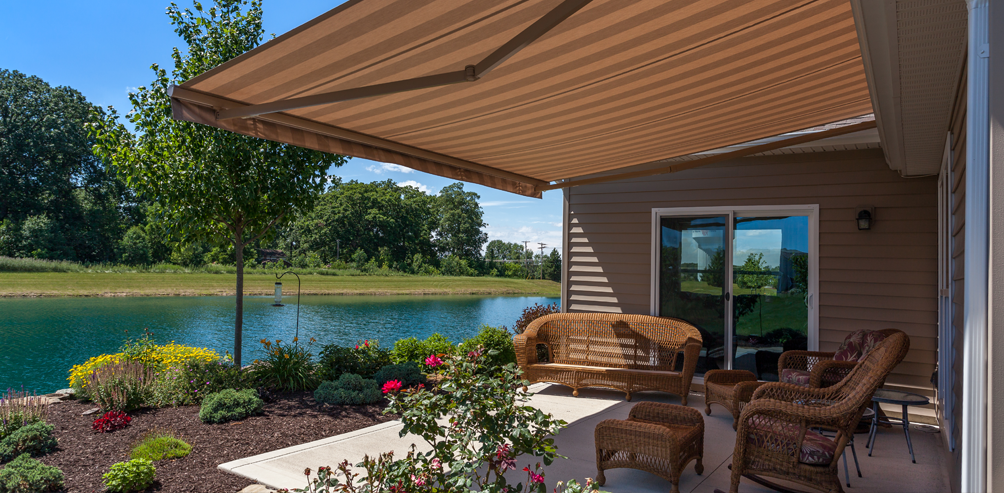 A patio awning cover is a classic and popular choice to provide solid coverage for your patio. Awnings are highly versatile and come in a wide variety of sizes, colors, and styles to fit any patio cover ideas you may have.
Out of all the awning patio covers, retractable awnings are the most convenient option.
Retractable awnings give you control of your space. Sun or shade? Get whatever you choose at the push of a button.
Retractable awnings provide shelter from the elements and are angled downwards to guide water and debris off. When they're not in use, you can retract them to prevent exposure to the elements and increase their lifespan.
Pergolas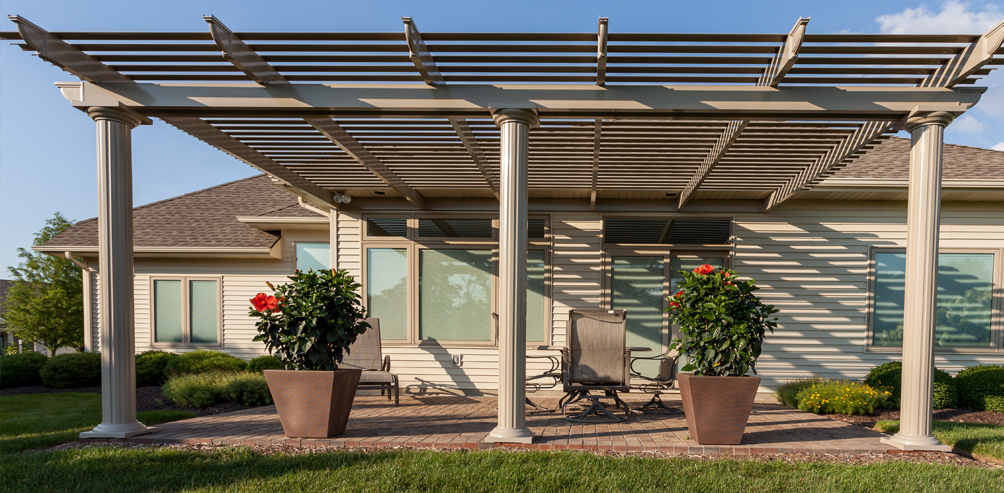 Pergolas are pillared structures that are supported with columns. When made of aluminum they are low maintenance and don't require frequent cleaning, painting, or resurfacing.
Pergolas can be free-standing or attached and are an elegant way to provide light exposure and improve heat circulation while still protecting you from the worst of the elements.
On the top of the pergola, you'll find either stationary or operable louvers. These louvers provide partial shade to your patio. Operable pergolas have louvers that open and close. Open them for partial shade, or close them for complete protection from the sun, rain, or snow.
You can even enclose your pergola and turn it into a screen room with the use of shade screens.
Shade Screens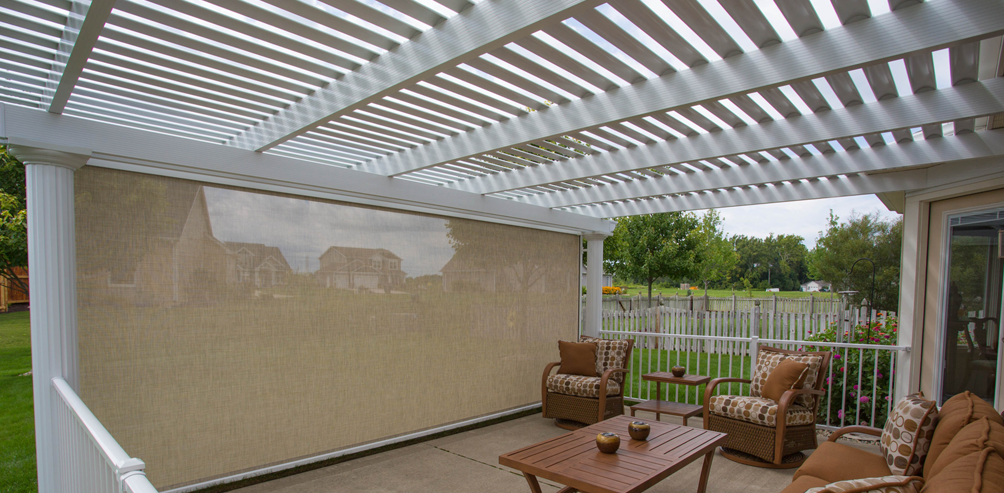 Retractable shade screens are verticle screen panels that block sunlight and harmful UV rays. They can be used with pergolas and patio roofs to provide extra privacy, shade, temperature regulation, and protection from insects.
A custom shade screen provides a better aesthetic than a one-size-fits-all screen. Custom shade screens can be made to fit the precise dimensions of your patio to provide a more polished, refined appearance and to offer complete enclosure.
Patio Covers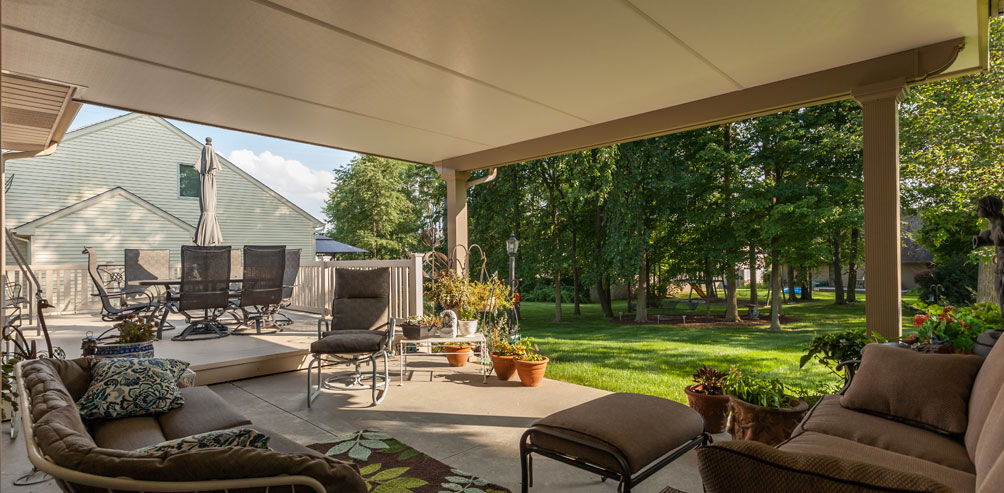 We can't talk about covering your patio without also talking about patio covers, also known as patio roofs.
Patio covers add a permanent roof to your patio supported by columns. They can protect your deck or patio from the elements allowing you to stay outdoors longer during any weather.
Add some patio lights, a fan, or shade screens to make the space even more useable.
Finding a Patio Shade Cover that Fits Your Style
If you want to improve the appeal of your patio, there are a wide variety of patio cover options available to fit any style.
Whether you want the convenience of a retractable awning or the elegance of a pergola, custom patio covers can add an extra level of appeal to your patio through both appearance and comfort.
Contact us today to see how we can make your patio cover ideas come to life.