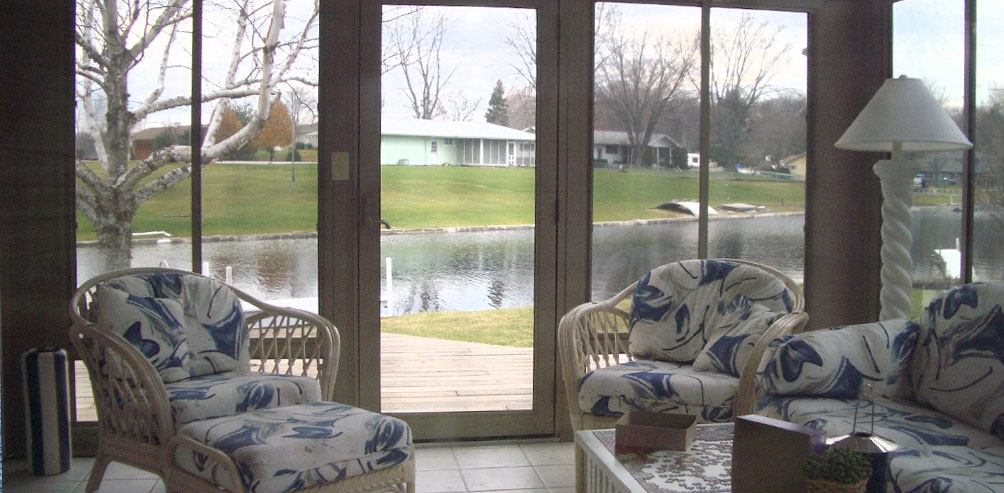 Did you know sunrooms have been around since 6000 BC? The Chinese started building the entrance to their homes facing south to allow the sun to heat the interior better. Since then, we've seen sunrooms pop up at different points in history whenever designers wanted to take advantage of natural winter heating.
These days there are many different reasons to consider a sunroom. Whether you want to increase the value of your home, create more living space, or just have somewhere to enjoy the outdoors year-round, sunroom additions could be just the home improvement you've been looking for.
What is a Sun Room?
A sunroom is a room in your home or extension where one or more walls are composed almost entirely of glass window panes. This allows large amounts of natural light to flood in, minus all the bugs and wind, rain, or other outdoor elements.
Sunroom designs include:
Screen rooms – Screen-in or enclose an existing outdoor space for an affordable option
Four season rooms – Additional living space that's comfortable year-round
Three season rooms – Ideal for warm to mild climates or if you won't need the space during winter
Solariums – Glass walls and a glass roof for unobstructed views.
Sunroom Benefits
Sunrooms come with many benefits. Versatility is a huge one because a sunroom doesn't just need to be a sitting area. The new addition can be used as a dining room, office, living room, extra bedroom, entertainment area, playroom, or craft room. Imagine all that natural light as you work on your latest project.
The best sunroom is comfortable year-round, even in winter. When designed well, you might notice you use cooling or heating much less, which will reduce overall utility costs.
And, it's no secret that sunroom additions can be a huge mood booster as well. The combination of natural light, the luxury of extra space, and the ability to feel like you're outdoors even in the dead of winter all add up to tangible health benefits. Finally, all these positives mean your home value will likely increase as well.
How to Build a Sunroom
If you're handy, you may be able to tackle this project on your own. Otherwise, sunrooms can be built by a dedicated professional. They can help you design the perfect sunroom for your space and your needs.
Location is the most important consideration when designing your new space. The quantity and quality of light will decide where you build.
What really makes a difference is your choice of decor. Interior sunroom design ideas include flora, mood lighting for the evenings, and even a cozy reading nook. This is where you can really get creative, and DIY is encouraged.
Sunroom Additions: A Year-round Haven
A sunroom could be just what you're looking for to add that something extra to your home. Designs can be versatile, affordable, and energy-efficient, all while increasing the curb appeal and value of your home.
Ready to add some more space to your home? Learn more about all the outdoor spaces we offer, including pergolas, sun shades, and sunroom additions.