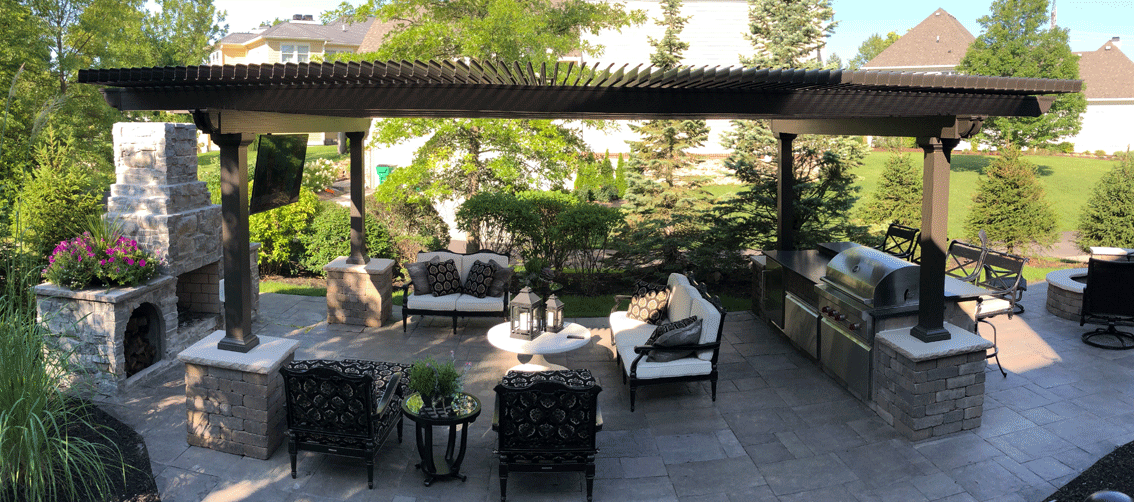 Summer's still going strong and weekends are quickly filling up with barbeques and get-togethers. What's better than enjoying the beautiful weather outside with friends and family during long summer days?
Do you love hosting? – Yes?
We have the perfect way to revamp your yard and throw an even better summer party this year. Keep reading to learn how an aluminum pergola will make your backyard summer parties even better!
4 Ways an Aluminum Pergola Will Make for a Memorable Summer Party
Adding a pergola to your backyard will completely transform your outdoor living space when you have an expert build it. This structure gives a nice outdoor area to spend time in, relax, or simply admire its unique structure.
Having a pergola in your backyard this summer will have all your guests talking and more than likely wanting to enhance their own backyards with a pergola as well.
1. Maximize Your Outdoor Space
With your brand new pergola, you will have a common area where your guests can mingle. This is the perfect way to create a lounge or dining area for your guests.
If you choose to go for the lounge look, your guests can sit around chatting while they sip on some adult beverages, soda or water. Or you can opt for a dining area where they can sit down and enjoy the delicious food you grill without them baking in the hot summer sun.
2. Protection From the Elements
Although pergolas might seem like they don't provide protection because of the open structure – this is far from the truth. Your guests will have an area where they can sit down and relax without worrying about getting a sunburn. Trust us your guests will appreciate having protection from the harmful UV rays.
You can even get creative and add all-weather drapes, shade screens or latticework to some of the sides to create a more private feel. You can also upgrade to an operable pergola to give your guests even more protection from the sun. Operable pergolas open and close at the push of a button. These come in handy too if a summer shower pops up. Simply close the top of the pergola and continue partying!
3. Add Your Style
Something fun about having a pergola is that you can add your own style to it. Your guests will appreciate however you choose to decorate it and probably take a few selfies to share with their friends.
You can add string lights to enhance the mood as the sun starts setting or add hanging pots and planters to invite in more natural elements. The options are endless with how you want to make it your own.
4. Privacy
Another great reason for adding a pergola to your backyard is that it will create privacy for your guests. Pergolas have a way of making it feel like you're in a private room but still have the perks of being outdoors, smelling the fresh air.
Your guests will thank you for giving them a sense of privacy especially if your neighbor's backyard is right next door.
Enjoy the Party!
As you can see adding an aluminum pergola will make your next summer party a hit! People will leave your party talking about the great time they had and your unique attractive space.
Ready to enjoy your outdoor space more and revamp your yard for your next summer party? Contact us today to schedule your free estimate.