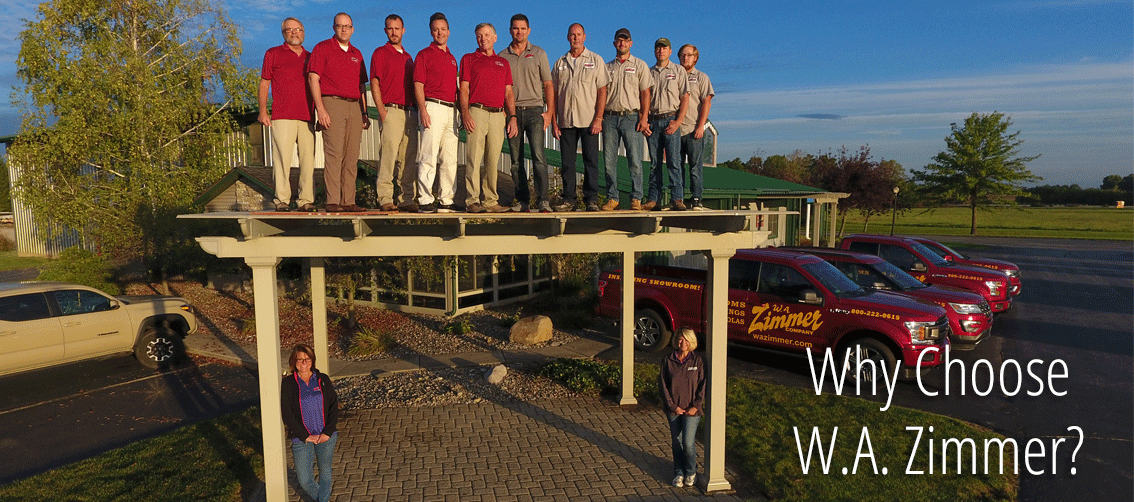 Across the United States, there are nearly 6 million people working in the construction industry. That can make it difficult to know which company to choose when in need of home improvement solutions.
So when you're ready to install a new pergola, patio cover, awning, or sunroom, who do you trust to get the job done? For those of you in Huntington, South Bend, Fort Wayne, and other cities in Northern Indiana, we've got you covered! We've put together this list of reasons to choose W.A. Zimmer Company.
Keep reading to learn more about us and how we can provide the best service to you. As you'll see, we've worked hard to ensure our business stands out in the crowd.
1. We Do the Work
It's the unfortunate truth that many home improvement companies work with subcontractors. As an independent worker, subcontractors focus on getting paid, and maybe not always on providing the best possible service.
At W.A. Zimmer, we employ our own contractors so we can ensure you only get the best service.
2. We're Covered with Insurance
All of our employees are properly licensed and insured. That protects you if anything happens while we're working on your home, including injuries to third parties.
3. We Only Choose Quality Materials
Other companies may focus on providing low-cost construction services. One of the ways they accomplish this is by using low-quality materials. These deteriorate quickly and typically don't look nearly as nice as other materials especially as they start to wear.
Rather than going with what saves us money, we go with what works. We've worked with the same main suppliers for over 35 years and know they provide the best of the best materials for the products we carry.
4. We Provide After-Care
We're not like some companies who are more than happy to take your money and leave forever after the project is complete. Instead, if you have a problem, contact us and we'll be happy to make things right. After all, we live and work in the communities we serve and we want to keep our friends and neighbors happy!
5. We're Local and Family-Owned
If you're a proud American and love to support the local economy, hiring us is a great way to do that. We've been focused on building up this community for years and are invested in what we've created here.
6. We Have Over 40 Years of Experience
Speaking of decades, we've been in business for over 40 years now. This gives us more experience than companies that are here today and gone tomorrow and represents thousands of satisfied customers. You know that we'll be here for years to come if you ever need to get back in touch with us.
7. We're Financially Responsible
We couldn't have lasted as long as we have if we weren't financially responsible. The fact that we own our own warehouse and showroom completely debt-free is a testament to that.
What that means for you is that we save as much money as we can on overhead costs so that we can pass those savings on to you. This allows us to continue providing excellent service without compromising quality in materials.
W.A. Zimmer Reviews
Don't' just take our word for it! Check out our reviews on Google, Facebook and the Better Business Bureau then make the decision for yourself. We're proud of the work we do and we're not happy unless our customers are happy!
Ready to Start a Home Improvement Project?
Now you know seven of the many reasons why you should choose W.A. Zimmer for your outdoor living products.
Whether you need a pergola, patio cover, or a sunroom, contact us today for a free in-home estimate. We would love the opportunity to show you first-hand how our services will exceed your expectations.