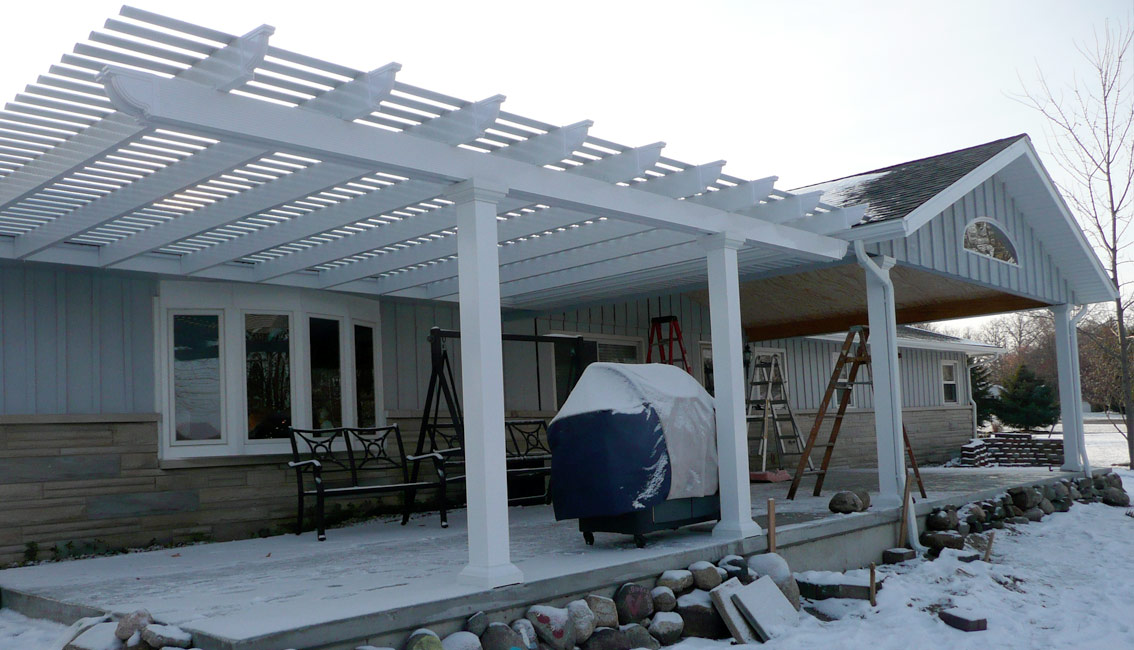 Do you love your pergola and want to use it year-round? With a pergola, winter doesn't mean you have to sacrifice the outside. You can have a barbecue, holiday cocktails, and more under your pergola this winter. Here's how to make it happen.
Use Motorized Screens
Motorized screens do more than block shade, they also block wind and extreme cold. Enclosing a pergola with screens is one way to trap some heat inside and keep frigid air out.
Install a Roof
In areas with mild winters, a roof plus a heat source may be enough to keep your pergola warm, even if the sides stay open. Plus, a roof will help protect anything inside your pergola from the elements.
Consider a retractable roof: you can even get remote-powered ones that you don't have to crank open. This lets you adjust the pergola cover for the season. You may also find that you want the roof closed during summer's hottest days, to keep your patio or deck cooler.
Add a Hedge
Use nature to your advantage to block cold air from your pergola. Although it will take some years to grow, a boxwood hedge will keep the wind out. Hedges also offer more privacy for your pergola, without sacrificing the outdoor feel.
Hang Outdoor Curtains or Blinds
Outdoor blinds or curtains offer another way to still feel like you're outside while enclosing the space.
Heavy canvas and other weatherproof materials turn the blinds or curtains into the "walls" of the pergola. They'll keep the wind and water out, but don't feel as closed in as actual walls. Plus, you can open them and have an open pergola again once winter's over.
Outdoor Heater
Adding an outdoor heater under your pergola, especially with the use of curtains or shades, will help keep your space warmer. Curl up on your patio furniture with a throw and hot cocoa for a cozy private retreat outdoors.
Ready to Try These Pergola Ideas?
The best pergola ideas for you will depend on your unique needs and preferences. There's no one-size-fits-all option. However, we're confident that we can design a pergola that will work for you year-round. You may also want to combine ideas for the best custom solution. For example, maybe your best pergola cover involves both an operable roof and motorized screens.
Don't have a pergola to enjoy yet? We can help with that, too! Contact us for your anytime pergola.