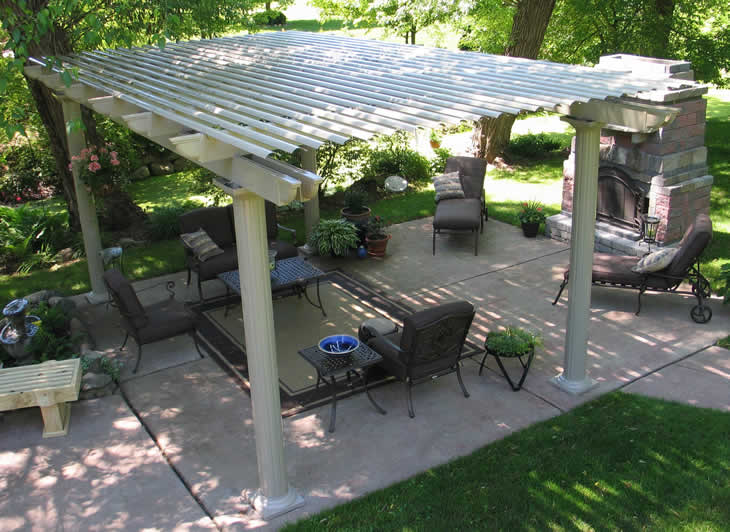 5 Reasons Why You Should Buy a Pergola
Have you been spending more time than usual browsing gorgeous backyards on Pinterest? Lots of common features between these picture-perfect spaces usually include flowering vines, café lighting, and a spot to hang out and grill. A pergola can help you wrap all of those features into one defined backyard space. There are tons of other ways a pergola can help transform your backyard, too–keep reading to learn what they are!
1. Add Shade
First things first: pergolas add the perfect amount of shade to your back deck or porch to make the summertime heat bearable. Since they're slatted, the shade rains down on your porch in stripes, providing 67% shade. It's the perfect amount to soak up just the right amount of vitamin D.
If you do find yourself wanting 100% shade coverage, you can always opt for an operable pergola that you can open or close at will to let more or less sunlight through.
2. Enhance Your Outdoor Space
A pergola instantly takes your back porch or deck and turns it into a nice, cool space to hang out. It'll up the aesthetics of your backyard. Instead of opting for a wood pergola which will require maintenance such as repainting or restaining to keep it looking good or rotting, go for aluminum pergolas which are maintenance free and will last a lifetime.
With a pergola also comes multiple new and exciting ways to decorate a pergola. String café lights along the slats for a romantic evening vibe. You can even grow jasmine or bougainvillea up your pergola to create your very own secret garden.
3. Create Privacy
If your yard is a little too exposed for your liking, adding a pergola can help. Add a screen, lattice, or drapes to the sides to keep unwanted attention away and add to the ambiance. Privacy pergolas with draping or half-walls can also be great for blocking unsightly views in your yard. Think: utility boxes, telephone wires, your neighbor's old playground, an unsightly shed in the yard behind yours.
4. Great for Entertaining
Nothing says party like a pergola! Set up cozy outdoor furniture, a long farmhouse dining table, or a grill and some cocktail tables beneath your pergola. With café lighting, your back deck will instantly transform into your favorite hosting space. Say goodbye to being glued to the kitchen while you have guests over. You're allowed to enjoy your events, too. Being outside will help you stay in the moment and enjoy your company, leaving the clean up for later.
5. Increase Your Home's Value
To buy a pergola is to invest in your home's resale value. Even if you're in your forever home, it never hurts to add to your property's value. You never know if you're going to change your mind, or you could end up relying on your home for a line of credit down the road. Adding a pergola to the front porch really levels up your curb appeal, too. And once your neighbors see you do it, they'll hop on the trend, brightening up your whole neighborhood.
Ready to Buy a Pergola?
Now that you've read up on all the reasons to buy a pergola, it's time to pull those daydreams out of your head and into your backyard! W.A. Zimmer builds maintenance-free aluminum pergolas around Huntington, Fort Wayne, Bluffton, Warsaw, Auburn, Kendallville, and surrounding areas that won't warp, rot, peel, or twist. Aluminum pergolas require minimal upkeep, and never need to be painted. Let us customize and install yours today!
Get in touch today to discuss how we can take your back porch from drab to fab in no time.