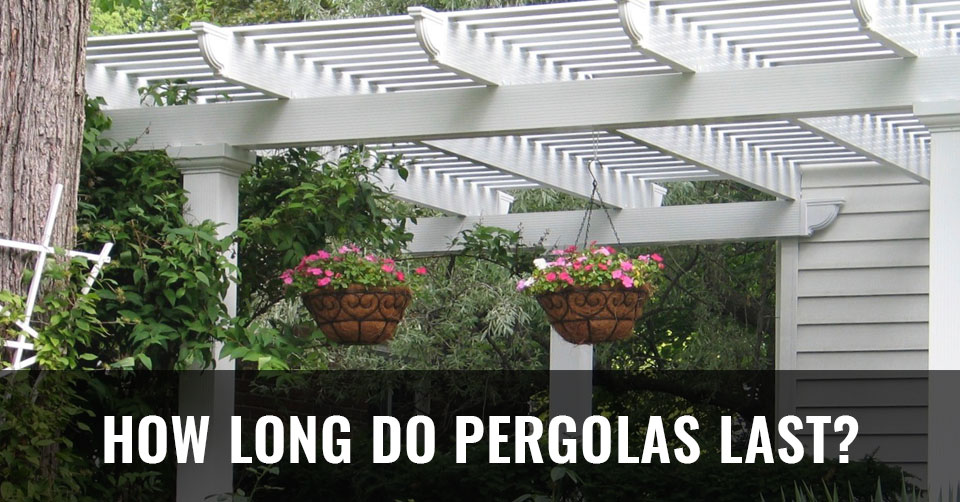 How long do pergolas last? Great question! If a pergola is on your home improvement wish list this is a question you should consider before adding this hot design trend to your home.
If you've decided you want to add a pergola to your deck or patio to help and style and cool your outdoor space, you likely also want to make this a long-term investment. This means understanding just how long the types of pergolas will last. Your enjoyment of your backyard is sure to be ruined if your view of the sky is filled with a cracked or warping structure.
Before purchasing a pergola, carefully consider the various types of pergolas available and just how your choice of material affects the estimated lifespan.
How Long Do Pergolas Last?
While the quality of construction and materials impact the lifespan of a pergola, the chief factor is the type of material you choose for building your structure. A pergola spends its life in the elements, and wood, vinyl and metal react quite differently over time.
A wise choice not only reduces your maintenance requirements but improves the value you get from your initial investment. Here's our guide to three of the most popular options.
Wood and Treated Wood
A classic choice, wooden pergolas provide attractive charm to your space. But how long does wood last? Even if you choose treated wood, your structure is still vulnerable to fading, warping, rot and – gasp! – termites.
With limited maintenance, expect a wood pergola to last about five years. You can improve its lifespan to 10 to 12 years with annual cleaning, staining or sealing.
Vinyl
A newcomer to the market is vinyl, which can be a nice complement to vinyl siding on your home. But how long does vinyl last? While vinyl is often touted as lasting a lifetime, there are some limitations. Unfortunately, this isn't a case where maintenance can help you improve the lifespan of this type of pergola.
Vinyl doesn't rot like wood, but it is the least strong of your material choices. Heavy snow loads can cause it to sag, while temperature variations can make it brittle and prone to crack or gouge. Expect its lifespan to be in the 15 to 20-year range.
Aluminum
Long-term, aluminum pergolas can provide you a low-hassle and attractive option. But how long do aluminum pergolas last? Extruded heavy aluminum is an exceptionally durable material that you can count on lasting a lifetime without cracking or warping and, they're virtually maintenance-free! However, don't confuse extruded aluminum with the inexpensive metal pergolas you might find at hardware chains or big box stores.
Many aluminum pergolas come with a lifetime guarantee since there is no worry of material decay thanks to their weather resistance. Expect to have your aluminum pergola for as long as you have your house — even longer!
Making a Smart Choice
As you plan your pergola project, remember that aluminum pergolas are an option meant to last for years with minimal maintenance. It's a material that gives you versatility in style and design with greater durability.
To learn more about types of pergolas and how aluminum could fit your needs, we encourage you to reach out. Our team of experts is ready to help you design your perfect backyard. Contact W.A. Zimmer today to schedule your free in-home estimate and get started with your dream backyard.