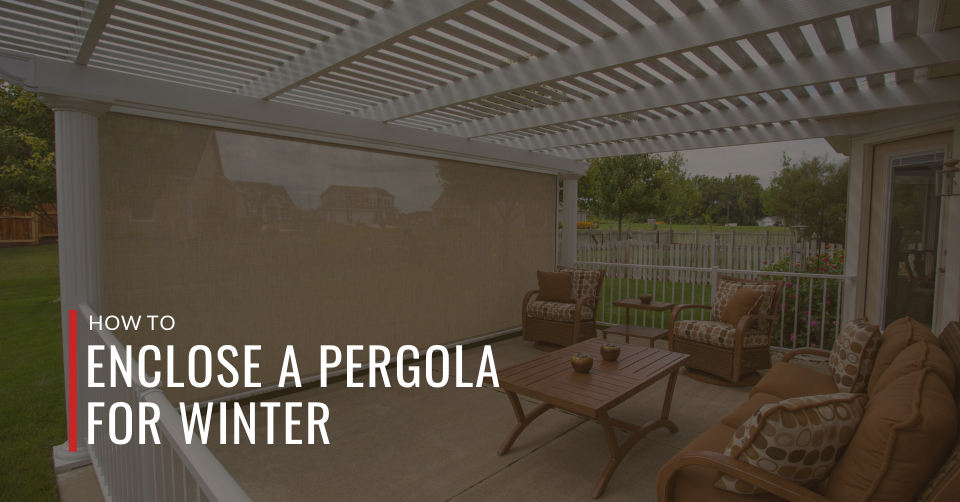 If you want a beautiful pergola in your backyard, you want to ensure that you can protect it during the winter months.  In fact, there are backyard pergola designs that can ensure that you get use out of your pergola even in the winter. It can be quite a wonderful experience if you make it cozy and warm with the right enclosure.
If you want to know how to enclose a pergola when winter strikes, there are several ways to achieve this.
Keep reading to find out how you can enclose your pergola for the winter.
Add Outdoor Curtains
If you're enclosing a pergola, adding heavy-duty curtains can help you do the job. You want to ensure that they are made of a weatherproof material that can withstand the elements.
There are curtains to suit all pergola deck designs and you can still have an outdoor feel while you're in the enclosed space. They act as makeshift walls, making it easy to open up the space or enclose it when you need to.
Use Shade Screens
Shade screens are another great option for a pergola enclosure. They are also a more modern option that can take the look of your outdoor space to another level.
Pergola shade screens act as outdoor blinds and are made of thick material. Shade screens provide protection and act as shelter for your pergola all year round. They also have a natural and airy feel, without feeling like you are boxed in.
Like outdoor curtains, shade screens can be opened or closed when you need them and turn your pergola into an enclosed living space.
Install a Roof
If you don't yet have your pergola installed, a roof option is something to consider before your pergola is built.
A roof helps to keep rain and snow off of the pergola and can keep help keep heat in.
An operable pergola roof allows you to open and close the roof so you have partial shade or complete protection when you want it. This option offers both shelter from the colder months, and shade for the summer months.
Create a Heat Source
After you've created shelter around your pergola, you'll want to ensure that you have access to a heat source. This will make your outdoor space pleasant, cozy, and enjoyable during the colder months.
A patio heater that is powered by propane or electricity is a safer option than building a fire in your enclosed space. There are also hanging heaters that save you space in your enclosed pergola.
Final Thoughts on How to Enclose a Pergola
If you want to enclose a pergola, there are many ways to do it. You can install curtains, add a roof, include a source of heat, or use shade screens. Not only will these help you protect your deck space during the winter months, but they will also actually allow you to get use out of it all year round.
Grab a hot cocoa and head out to the deck this winter with these great ways to enclose your pergola!
At W.A. Zimmer Company, we can help you enclose your pergola. Contact us and let's talk about your needs.