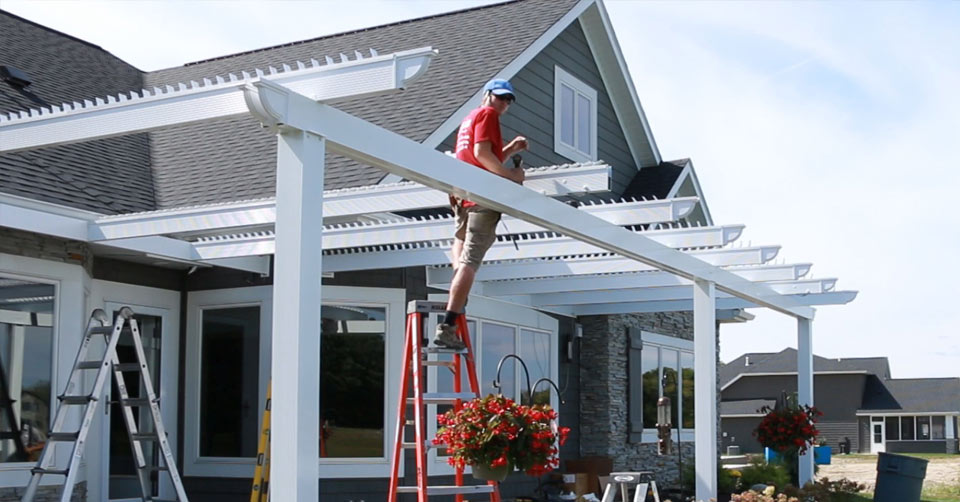 As warm weather approaches, our backyards become our go-to spot. For holidays, pool parties, or even just relaxing with a bottle of wine, your backyard was made for entertaining.
Create a backyard you can be proud of with a patio or deck pergola. Keep reading to learn the cost to install a pergola as well as why you need one!
What is a Pergola and Why Would You Need It?
A pergola is an outdoor structure that supports a roof with four beams.
The pergola can have slots in the roof, or it can be a solid design. If you're looking for a pergola for merely aesthetic purposes, you can get away with a slotted design. However, if you're looking to use it for cover, you will want an operable pergola that's able to open and close.
Pergolas are often compared to gazebos or arbors, however, pergolas are unique in the materials that are used as well as the structure.
Pergolas are a great way to spruce up your yard. If you want to make an outdoor living room, a pergola is just the thing to tie the design together.
How Much Does a Pergola Cost?
This outdoor element can be pricey to add to your yard, however, the most beautiful things for your home don't come cheap.
If you're looking to cut costs a bit, you can attempt to DIY the pergola. However, pergolas can be tricky to make so you may find it's easier to hire a professional for the job.
Hiring a Professional
A professional contractor can create the pergola of your dreams!
There are many factors that go into the cost of a pergola including size, features, number of columns needed, how it's mounted, and material. Wood pergolas are less expensive, however, they come with the cost of a lifetime of maintenance and upkeep including cleaning, sanding, staining, and sealing to keep them in good condition. While aluminum pergolas cost more upfront, they'll last a lifetime without any maintenance and will look great for years to come. And, hey won't warp, rust, or sag like wood pergolas.
For a basic aluminum pergola, you can probably expect to spend $5,000 or more.
How much you will pay to have your pergola built will also depend on the experience of your contractor.
DIY a Pergola
While DIYing a pergola is always an option, it isn't necessarily recommended.
A pergola is pretty complex to build if you aren't trained in this area. Plus, even attempting to DIY a pergola is expensive. The materials alone, depending on size, can cost thousands of dollars.
If you're going to spend that kind of money on a home improvement project, don't you want to be certain it's done right, will look good, and will last? This is why spending a little extra and finding an experienced contractor is in your best interests.
Why It's Worth It
A pergola is worth the money because it truly does add the sophistication and warmth you're looking for. It's a space that you'll enjoy spending time in whether barbequing with family, entertaining friends, or relaxing at the end of a long day. So, why not take that extra step to make the outdoors as inviting as the indoors?
Now that you what a pergola is and what the cost to build a pergola is, how about taking that next step? If you're ready to have a pergola built in your yard, reach out to us to schedule your onsite estimate.