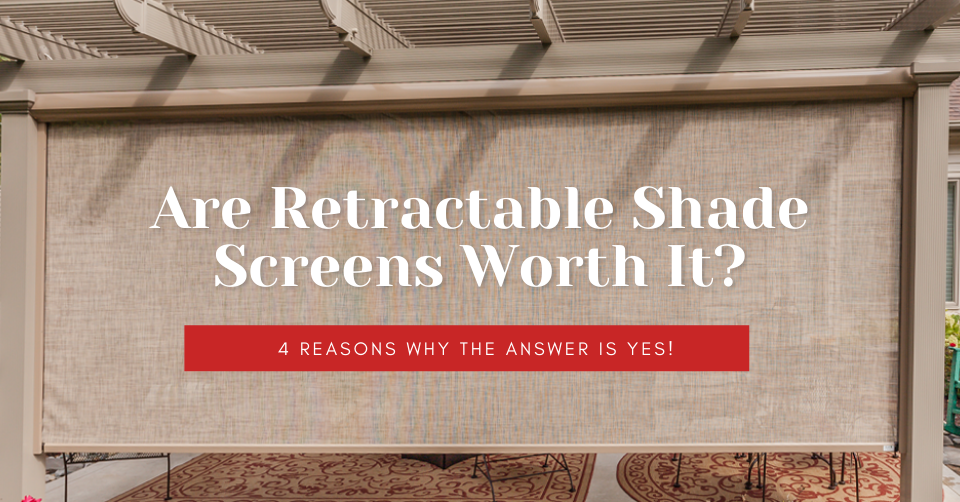 Are you interested in sprucing up your home? Well, you're not alone; more than 700,000 Americans are making renovations to their homes due to the pandemic.
Unsurprisingly, the patio seems to be a key point of interest for many homeowners. Some want to make it more spacious, while others simply want to make it more enjoyable. In fact, one renovation many homeowners are considering is a retractable shade screen.
It comes with many benefits, such as protection from the sun and insects. With this guide, you can determine if a retractable shade is right for you.
Now, are you ready to get started? Here's a quick look at the benefits of retractable shade screens.
1. They Protect Against Sun Damage and Heat
Shade screens are a great addition to any patio with a pergola or patio cover. While the pergola and patio cover offers shade and sun protection of their own, they don't block out the sun when it's lower in the sky.
When the sun is lower, having a retractable shade screen allows you to block out the sun to protect you and your family from the heat and harmful rays.
Sun protection is crucial when spending time outdoors. After all, the sun can cause eye damage and skin cancer in people as early as their twenties.
That's why retractable shade screens for your patio are a must. With their thick shades, they protect against UV rays and shield your skin from harmful toxins.
Not only do they protect against the sun's rays, but they even decrease heat. With natural ventilation, you'll notice your patio will be much more comfortable to sit in.
2. They Reduce Insect Problems
Insects are often an annoyance during outdoor activities; however, with a retractable shade screen, you don't have to be bugged anymore. The shade is thick enough that it doesn't allow even the smallest of bugs through.
Plus, there are over ten different types of meshes, so you can choose the type of protection you prefer. That way, you can enjoy your outdoor space in peace.
3. They Provide Privacy and Security
Many people forget that shade screens also provide privacy and security. Unlike other patio screens, you can't see directly behind the retractable screen.
So you can enjoy the shade, comfort, and the privacy of your patio. Whether you're spending time with friends, having a family gathering, or simply enjoying the weather, a retractable shade screen provides the perfect level of privacy, so you can feel safe and secure in the openness of your patio.
4. They Increase the Value of Your Home
A lesser-known fact about retractable shade screens for patios is that they increase the value of your home. Since having a retractable screen makes a patio more useful and convenient, more people would want to buy your home. They naturally boost the value and attractiveness of your house.
Purchase Retractable Shade Screens Today
If you're looking for a way to provide a better outdoor living area that will protect your family against the sun, insects, and prying eyes, a retractable shade screen is a great choice! Say goodbye to annoying pests and frustrating heat, and say hello to comfortable living.
What are you waiting for? Purchase a retractable screen today!
For more information about retractable shade screens, contact us. We look forward to helping you!