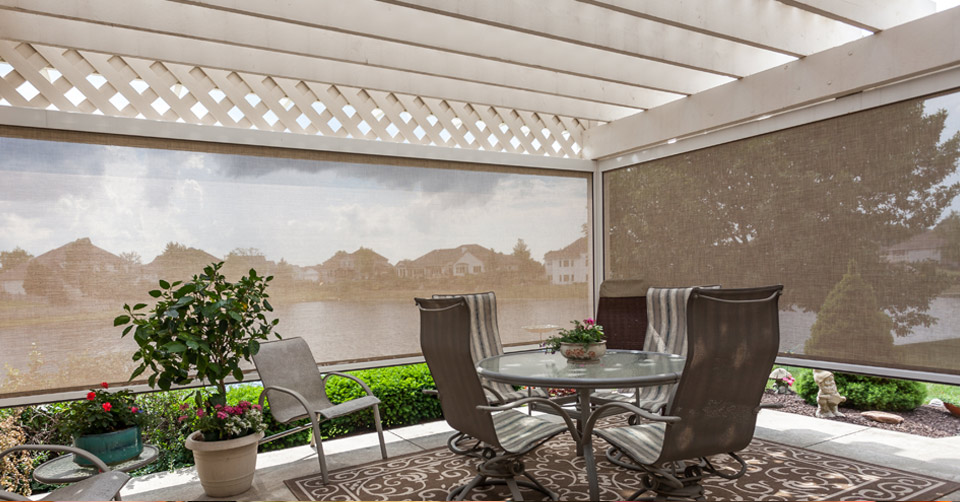 Few things in life are more enjoyable than relaxing outside soaking up the great weather.  And, with the warmer temperatures on their way and the shelter in place order in effect, there's no better way to social distance than on your own deck or patio. To keep your privacy and protect yourself from harmful ultraviolet rays, practice these great outdoor shade ideas.
When planning an outdoor living space, consider some of these options for shade and privacy.
1. Pergolas
Step out of your home and under your pergola. Pergolas are an extension of your living space and provide a covered sitting area with an open-roof system and are a timeless accent to any type of architecture. They create an inviting space to enjoy endless hours in your yard without exposing yourself to too much sun.
The columns and open beam structure of a pergola helps to create a little privacy without blocking the view of your yard. It will be your new home outside your home. A cozy, relaxing spot you'll never want to leave. Need a little more privacy? Add some shrubs, curtains or shade screens.
2. Large Trees
Trees add a lot of shade, are environmentally friendly, and don't cost a lot of money. You might have to consult with an expert to figure out which trees and shrubbery will look great and serve their function.
Adding trees will take time as they grow from small saplings to mature adults, but you will have a natural cover from the sun and neighbors.
With new trees near the house, you will also be able to shade and protect your home from the elements. And, the extra shade may help lower your utility bills.
3. Patio Covers
Spring in Indiana, you never know what weather you're going to get! It may be sunny one minute then raining the next. With a patio cover, you never have to worry about the weather ruining your patio time. You can stay outside all day through sun or rain with an aluminum patio cover. The solid roof style lets you continue the fabulous family barbeque you're having without worrying about harsh sunlight, nosy neighbors, or rain ruining the occasion.
Patio covers also protect your patio furniture from the elements. No more faded cushions or a wet butt from sitting on your patio sofa after a rain.
4. Retractable Awnings
A retractable awning is an attractive choice for someone who wants the best of both worlds — sun and shade.
Sit out on your patio in the morning and soak up some vitamin D, then open your awning to shade your space as the weather gets warmer.
Retractable awnings extend your outdoor living space and provide protection from light rain or glaring sun. Awnings are a great option for many homeowners requiring shade and privacy without requiring a permanent structure.
Choose between a manual awning or a motorized awning that opens and closes with the push of a button.
5. Shade Screens
Do you need a convenient shade and privacy option for your pergola or patio? Shade screens can provide you with both.
Shade screens can be designed and made custom to the dimensions you need. Their retractability provides instant shade and privacy at the push of a button and allows you to have a private meal outside or offer shade from the summer sun.
Get Made In The Shade With Outdoor Shade Ideas
Sit outside and enjoy your patio or living space without worrying about privacy or too much sun. By using these outdoor shade ideas, you can protect your loved ones comfortably outside.
If you're ready to get made in the shade, contact us today.