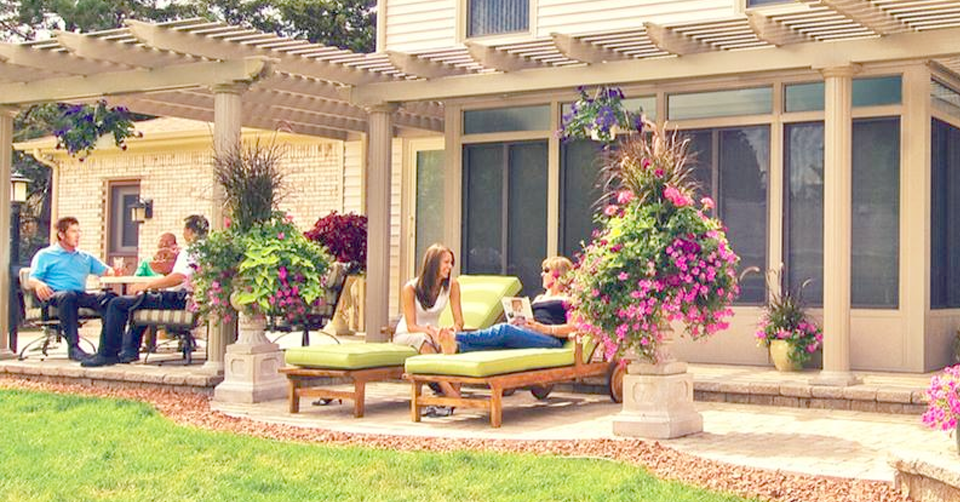 Do you suffer from a boring backyard? Are you considering landscaping but are unsure where to begin? No worries, we've got you covered. We know that improving your outdoor living areas can seem like a daunting task, so we've come up with a few simple options that will work in any yard.
Whether it's too small, too plain or plain ugly, give your yard a makeover with these tips.
Pave a Path
Outdoor flooring is one of the best and most versatile ways to upgrade your outdoor living areas. It's easier than building a deck and can accommodate any style, budget or space restrictions you can throw at it. The greatest thing about outdoor flooring is the huge variety of options. Choose the extravagant or the economic or anything in between. Pick from hundreds of materials, from brick or cobblestone to faux wood or rubber tile, in any color or style you want. Also make it as big or as small as you need: a large path through your garden or a floor just big enough for a few tables and chairs. Or pave the whole yard if you want to. Even if your yard is nothing more than a 100 square-foot dog-run, any kind of flooring is better than plain dirt or weeds.
Add More Space and Seating With a Storage Bench
Your outdoor living areas can easily become cluttered, especially if you do a lot of yard work or landscaping. You'd prefer your tools close-by rather than in the garage, but your backyard may be too small for a tool shed. Or you may have kids who like to play outside but don't like to clean up their yard toys. A storage bench is a perfect solution to both of these problems. It adds more outdoor seating and makes it easier for you and your family to keep the yard clean. Plus, it takes up less space than a storage shed and looks nicer, too.
Get a Versatile Pergola
A pergola is an excellent shade structure for an outdoor living area. It provides just the right amount of shade while allowing airflow. You can cover it with curtains or waterproof tarps for more shade or rain protection. Accessorize it with wind chimes or potted plants for flair or even bead curtains for a more walled-in appearance.
Pro tip: get an aluminum pergola instead of a wooden one to make your life much, much easier. Aluminum pergolas come with a lifetime warranty and never require any maintenance such as painting or staining.
Make Outdoor Living Areas Livable With Furniture
Who wants to hang out standing up? If you want people to chillax in your yard, give them somewhere to sit! It's amazing how easily one table and a few chairs will turn your empty yard into an outdoor living room.
Get Inspired
These are the easiest ways to spice up your yard, but not the only ones. Check our photo galleries and our blog for more ideas and get creative. Contact W.A. Zimmer today to schedule a free in-home estimate to learn more about our aluminum pergolas and other ways to create shade and beauty in your yard.