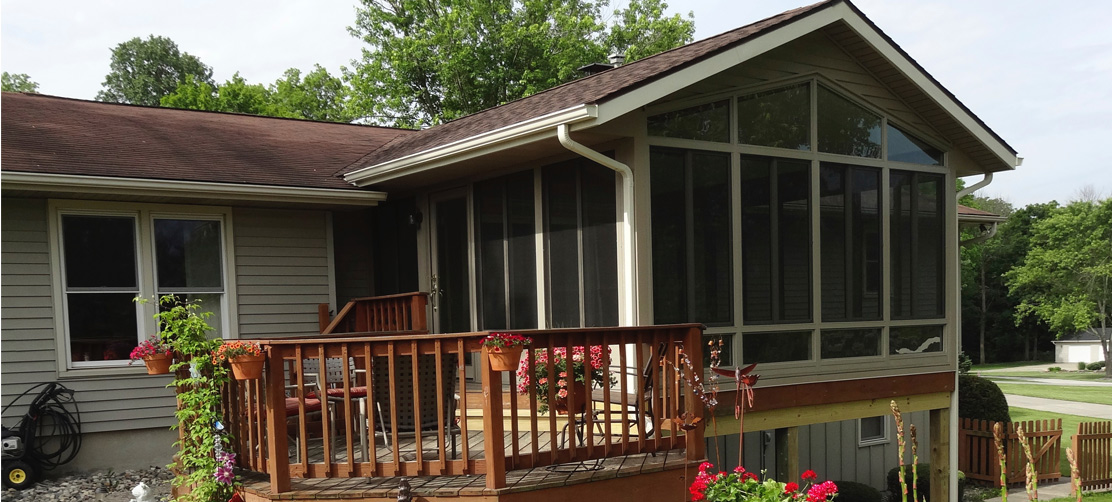 You've been dreaming of your next home improvement project. It's bright, sunny, and perfect for hanging out in the afternoon. Yup, you're looking to add a sunroom. But for all the fun sunroom designs out there, adding a sunroom to your home can also be an expensive undertaking — you want to make sure you get it right the first time.
Keep reading for everything you need to know about buying and designing the sunroom of your dreams.
Know the Types of Sunroom Designs
First, let's start with the fun part: the many different types of sunroom designs each with different uses for the way you live.
Common sunroom types include:
Zimmer Room Plus — traditional aluminum sunroom
Extended Season Sunroom — insulated allowing for use in cooler months
Three Season Sunroom — allows for use during 3-seasons
Solarium Sunroom — all glass roofing for the ultimate amount of sunlight and sky viewing
What sunroom is best for you?
Start by considering the climate you live in. If you live in Florida, a screen room can work quite well. If you live in Wisconsin or North Dakota, not so much.
You should also consider what you want from a sunroom. Do you plan on using it in the summer? Do you want to grow plants in it? Do you want to use it all year round or during the holidays?
Choosing a Sunroom Contractor
If you do a search for "sunrooms in Fort Wayne" or "sunroom contractors near me", chances are, you're going to have a lot of options. So, how do you choose a contractor to build your sunroom?
First, start by checking out their online reviews. Almost everyone company will have some negative reviews, so if you see a few, don't worry. But, if you see a lot, start looking for another company.
Then, check out their website to learn a little more about them and to view sunrooms that they've built. Like what you see? Great! Give them a call to get more information about them. A few questions you may want to ask are:
How long has your company been in business?
How many sunrooms has your company built?
Do you use employees or subcontractors?
What types of materials do you use and why?
Are you licensed and insured?
Schedule an Appointment
Once you've found a sunroom contractor that you like, schedule an appointment with them to discuss your project. Show them the area you want to your sunroom. Discuss your needs and how you'll use the room. Most contractors will take some measurements and draw up a rendering of what the sunroom would look like on your home. If a company gives you a quote without taking a closer look at your home and the project space, you're probably going to deal with hidden costs later.
Ask About Electrical
While you're getting an inspection or a quote from a contractor, make sure to take a look at the electrical systems and any potential issues that may arise. Think of it this way: you would never live in a house that wasn't up to code. That's a house fire waiting to happen. The same can be said of your sunroom.
Permits
Finally, you want to make sure you avoid any stumbling blocks during the building process. That means getting the right permits. Not sure if you need a permit? Chances are, you probably do. Find out if you need to get the permit or if your contractor will take care of it for you.
Helping You Make the Most of Your Sunroom
Now that you know the cost of your project and you've ironed out the technical details,  are you ready to dive in? Get in touch today to schedule an appointment to have one of our sunroom contractors come out and take a look at your space and discuss what type of sunroom you'd like on your home.