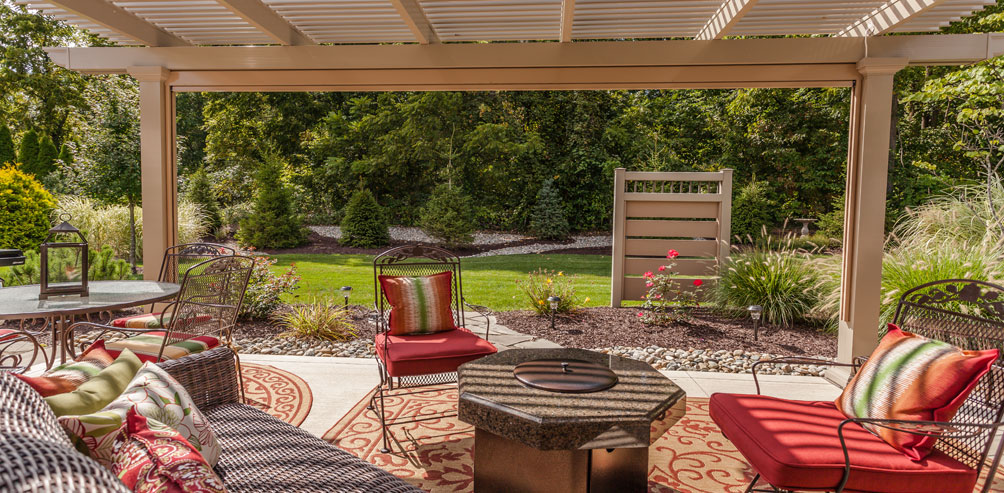 Studies show the same thing, time and time again: Spending time outside isn't just fun—it's also good for your mental health. So if you're currently crafting your list of New Year's Resolutions, you may want to consider adding "Spend more time outdoors to your list." And, if you're lucky enough to have a beautiful patio space, then you know that you don't have to even leave your home to enjoy the great outdoors! But are you really getting the most out of your patio? If your outdoor entertaining space could use a little freshening up, read on for some fun ideas for patio renovations to make in the new year.
Cooking and Dining Features
Sure, everyone's got a grill on their deck or patio. But what about a stove, oven, sink, and counter space? And for good measure, why don't you throw in a wet bar and a spacious dining table?
Putting a full cooking and dining space into your patio will allow you to spend as much time as possible outside when the weather's nice. And when you're busy entertaining, you'll be able to get all the cooking done while still spending time with your guests outside.
When it comes to patio renovation ideas, cooking and dining features should be at the top of your list!
Get a Shade
There's nothing better than lounging on your patio on a nice, sunny day—but there is such a thing as getting too much sun!
Fortunately, this is an easy problem to fix with a retractable shade screen! This simple device will keep the worst of the sun's harsh rays away from you, while still allowing you to enjoy time on your patio. If a light rain pops up you won't need to move your party indoors, your retractable awning has you covered.
When the time comes for patio renovations, ask us about our retractable screens.
Propane Fire Table
You don't have to wait for a warm day to make the most of your outdoor space. Propane fire tables add warmth and ambiance to your patio or deck and make it a great place to cozy up in the winter or cool spring and fall evenings.
Light It Up
Could your outdoor lighting use an update? When considering patio renovations, make sure you don't sleep on your outdoor lights! Add lighting to pergolas and patio covers as well as recessed lighting built into stairs, counters, tables, and other features. When it comes to outdoor lights, this is your time to really get creative.
Add Greenery
No patio renovation is complete without adding a little greenery. Liven up your patio or deck with flowers and plants. Use hedges to create some privacy around your deck or patio and flowers to brighten up the space.
Here to Help
Is 2021 the year you'll go all-out on patio renovations? If you answered "Yes!," then get in touch with our team today. Together we will create the patio of your dreams!