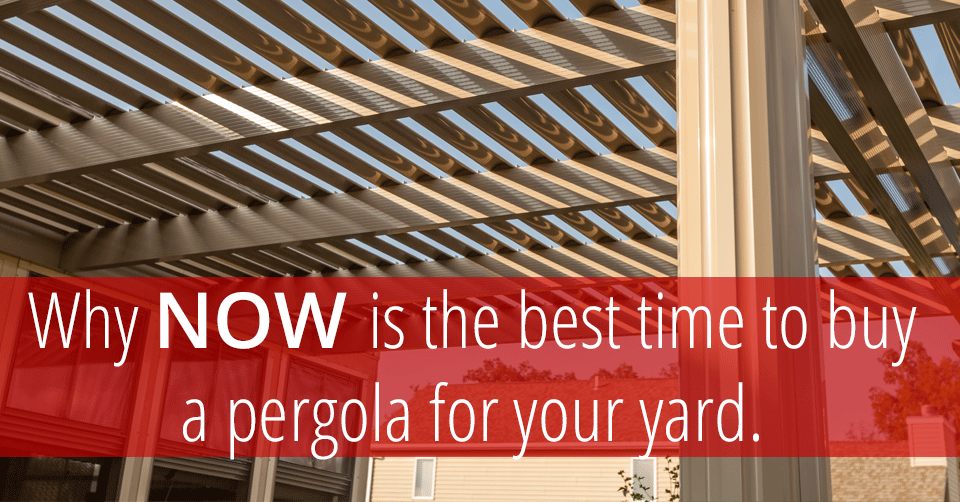 We're in the throws of amazing summer weather and spending time in your yard is one of the best pastimes during these nice summer months. Want to enjoy the outdoors even more? Install a pergola!
Pergolas allow you to enjoy every bit of your yard in the spring, summer, and fall months. In this post, we're going to tell you why you shouldn't wait any longer to install one in your yard. They're functional, they look good, and they're an affordable item that can take your yard or garden to the next level.
If you aren't enjoying your yard the way that you want to, a pergola could be the answer. Let's find out why.
Why Does Your Yard Need a Pergola?
Many people think that pergolas are strictly a decorative item. While they do look great, they can actually serve a practical purpose too. Here's why you need a pergola in your yard.
Versatility
The beauty of the pergola is that they're incredibly versatile. You can permanently install one on your back deck or you can have a free-standing one out in your garden.
You can decorate your pergola with vines and flowers or just leave it in its natural form. It's a great decorative piece, but you'll find that it has a lot of practical benefits as well, which we'll talk about next.
Adds Shade
One of the best things about having a pergola is the shade that they provide during hot, sunny days. A typical latticed pergola will always provide you with partial shade, but you can also upgrade to an operable pergola to get full coverage. Operable pergolas open for partial shade and close for full shade at the push of a button. The choice is yours!
Expands Garden Possibilities
Having a back garden makes summer more fun, but having a pergola in the garden allows you to spend more time in it. Spending quality time in the garden is important for mental health and wellness.
A pergola allows you to sit out in the shade, but you can hang plants on it as well. Climbing plants like beans and flowering ivy can be planted to grow up the side of your pergola.
Increased Privacy
If you live in a city, you know that it's hard to get privacy. Houses are always built so close together, so you end up getting pretty intimate with your neighbors when you sit outside.
A pergola with wrap around shades can give you all the privacy that you'll need while you're in your yard, in addition to the shade and help with bug control. Open them up to let the outside in or keep them closed for ultimate privacy.
Find Your Pergola Paradise
A pergola will undoubtedly transform your yard into the summer paradise you've always envisioned it could be. Don't let another summer go by without the yard of your dreams. Contact W.A. Zimmer today to learn more about our lifetime pergolas.