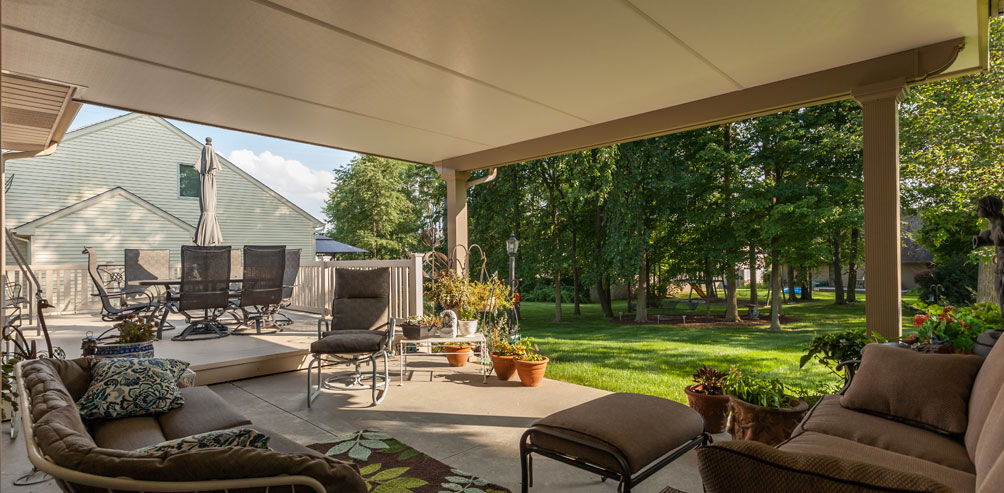 Did you know that, of all single-family homes built per year in the United States, over 50% of them have patios included? It certainly seems a good patio has lasting appeal for a quality family home. So why not enhance the space even further with the perfect roof?
Patios allow families an easy way to enjoy the outdoors, but with the right roof or cover installed, you can do so even more comfortably.
Patio roofs, also known as patio covers, are a great addition to any patio or deck. Read on to learn five key benefits of installing a good patio roof.
1. Minimizes Sun Damage
One of the biggest benefits of a patio roof is that it can shield much of your patio from direct sunlight. But, they don't only shade your space, they also block out harmful UV rays. Instead of baking in the sun, you and your family are comfortable and protected. It will allow you and your family to spend more time out on your patio without being burned by the hot summer sun.
In addition to protecting your family from sun damage, a patio cover will also protect your patio furniture from fading in the sun. Meaning it will look better for longer.
2. Cooler Temperatures
So far this summer has been hot! And, there's no sign of a a cool down anytime soon. Instead of spending the summer days indoors, patio roofs cool your space by 15 degrees or more allowing you to enjoy your outdoor space.
In addition, you will even notice less outdoor heat coming in warming your home, meaning less of your power bill will be spent on air conditioning.
3. Protection from the Elements
From rain to snow to ice, an uncovered patio must endure all manner of elements all year round. Such weather can damage your patio and its furniture as well as cause dirt and grime to accumulate. Patio roof covers will do their part to shield your patio from the brunt of inclement weather damage.
4. A More Enjoyable Patio
With a patio roof over your head, you won't have to worry as much about the outdoors getting in the way of your patio plans. If you want to have an outdoor gathering or cookout, a little undesirable weather doesn't have to stop you.
5. A Patio Roof Ups Your Home's Value
It might surprise you to learn that a properly upgraded and covered patio can raise your home's property value by 12.4%. As it turns out, a covered patio can leave you and your family not only feeling more comfortable but also more financially protected on your home's investment.
Protect Your Patio Today
Are you ready to experience all the benefits of a quality patio roof? We've got you covered! Contact us today and let us use our experience to help you decide on the perfect patio roof for your home.