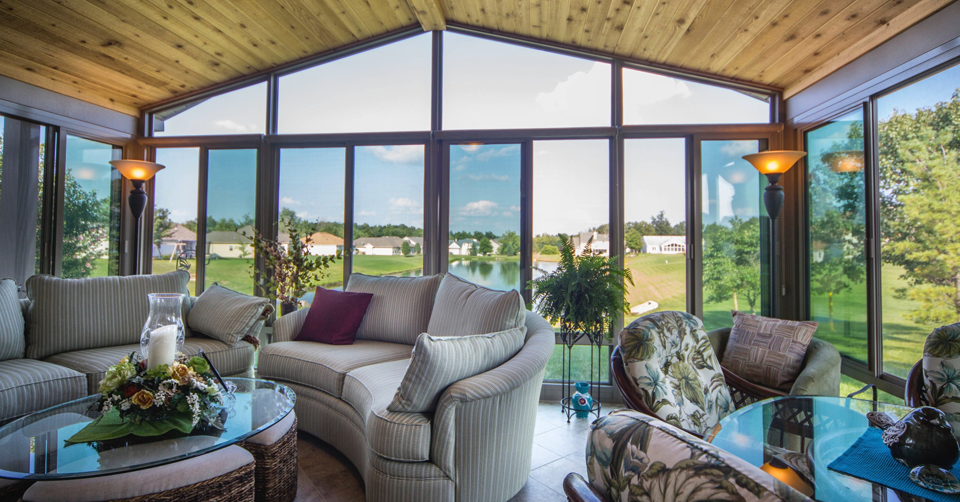 The weather finally started heating up a few weeks ago, but now it's almost July! Summer is flying by way too fast and soon the leaves will start to drop and the cooler temps of fall will be here. If you're like us and want to extend the outdoor season well into the cooler months, a sunroom is a great option.
Sunrooms, also referred to as a solarium, sun porch, or garden room, are perfect for extending your outdoor season while adding beauty and value to your home.
Read on to learn more about the benefits of a sunroom.
What Is a Sunroom?
A sunroom is an extension of your home. A room covered with glass to allow daylight to stream in while sheltering you and your family from adverse weather and bugs. As a popular addition to your property, a sunroom provides a great space for entertaining guests and relaxing. It's also perfect for enjoying the views.
Benefits of a Sunroom
A vast majority of homeowners always wonder, do I need a sunroom? Yes, you do if you want to enjoy the surrounding scenery and extended your outdoor seasons. Many homeowners move indoors into their sunrooms as the summer fades into fall and the air starts to get a little chilly. A sunroom helps you extend the outdoor season by giving you the feeling by letting you enjoy your outdoor views while enclosed a room full of windows that bring the outdoors in.
Sunrooms are also perfect if you need more living space. Just be careful, you may never use the rest of your home again!
Want to know more benefits of a sunroom? Keep reading!
It's the Perfect Family Room
As a modern-day porch, a sunroom is the perfect family room. Having evolved from the traditional patios, sunrooms have become multi-weather living spaces. In fact, it is the perfect space for game nights!
It's the Ideal Office Space
Spending time indoors is isolating and soul-sucking. Working at a co-working space can be noisy and distracting. If you are a freelancing coder, graphics designer, artist, or work-at-homer the sunroom is the ideal space for you.
Think about it. You have the daylight streaming in and at night, you have the view of the stars and night sky. Simply put, you get to enjoy nature and the sun while working. You also have fewer distractions and noise.
It's the Perfect Playroom
If you have kids, the sunroom can make an excellent playroom when the weather is not ideal for playing outdoors. The kids get to play and you get to enjoy the warmth and charm of the sunroom!
It's an Excellent Workout Room
If you need a dedicated exercise space for meditation and yoga, a sunroom is the best place for you. As a fresh new space for your workout, it protects you from the cold weather and bugs and gives you bright space with views of your landscaping for inspiration.
A Great Spot to Camp In
Sunrooms make a great spot to catch some ZZZ's. Grab your sleeping bag or air mattress, throw open the windows, and camp indoors while enjoying the fresh air and sounds of nature without the bugs!
Choosing the Right Professional to Build Your Sunroom
A sunroom can enhance your living space, life, and home. To build one in your property, you need the help of a professional. To choose the right contractor, consider the following qualities – integrity, leadership, and honesty.
Now that you know the benefits of a sunroom, are you ready to get started? Contact us today to schedule your free estimate.