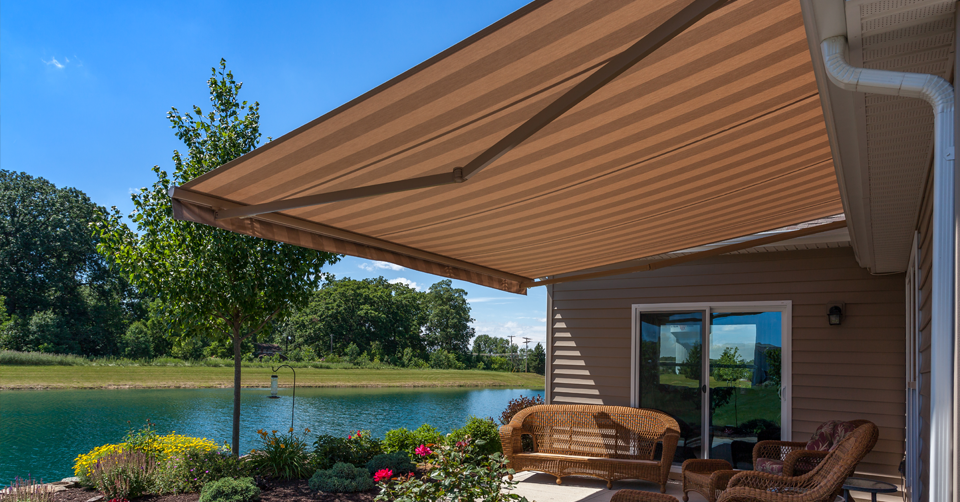 You've chosen to renovate your home? Congrats! What if you could save money, increase your comfort, and transform how you live with a small, simple investment in your home renovation? Although home awnings might not be the first thing that pops into your mind, they are a quick and affordable way to increase your property value and the lifespan of your home.
Read on to learn how to reap the rewards of adding awnings to your home…
1. Increase Living Space and Add Value to Your Property
Sick of burning to a crisp while trying to enjoy your downtime on the patio or in the backyard? It's likely that after a few minutes in the Summer sun, you head back into the comfort of your air conditioner. Stop letting the sun keep you from enjoying your yard. Home awnings give you the freedom to comfortably enjoy the outdoors. But it's not just that. When positioned and sized just right, you can create an entirely new living area. Potential future buyers will view that as another usable, enjoyable, attractive factor. With that, comes increased value.
Whereabouts, you ask? Think over your deck, patio, or an area of grass. You'll be able to relax in the shade on sunny days, entertain friends, cook a feast on the barbeque, and let your children enjoy the outdoors. All while being shielded from harmful sun rays!
2. Keep Your Valuables and Household Items in Stellar Condition
Over the years, you've probably spent thousands of dollars furnishing your home with high-end carpeting, flooring, or fine art. Sadly, it will all go to waste as the sun fades, cracks, and peels through your investment. Curtains aren't enough to protect your valuable belongings unless you keep them closed. With a quality outdoor home awning, you can extend the shelf-life of your decor by years by shielding them from the sun.
3. Improve Exterior Aesthetics with Home Awnings
With our expansive range of awning styles, colors, and textures, you can match the look and feel of your home with a perfectly coordinated awning. Patterned, solid, or printed, we're sure we have the awnings that will fit your home decor style. Be ready to be the envy of family and friends when they come over to enjoy some downtime!
4. Stay Cooler and Save Money on Energy Costs
When facing the battle of summer, your air conditioner has one true enemy, and that's the sun. Luckily, our awnings are made out of sun-resistant, thick material that blocks the brutal attack of the sun's rays. With the sun out of your eyes, you'll also be shielded from heat. In fact, home awnings can reduce solar heat gain in the summer by up to 77% on west-facing windows! And, adding awnings to your home can save you as much as $200 a year by reducing the time your air conditioner spends running.
Next Steps:
As you can see, there are plenty of reasons awnings make a wonderful addition to your home. Not only are they practical and give you a money-saving return on your initial investment, they also add a dash of stylish curb appeal to your home.
Contact us today to get started on improving the look and feel of your home.