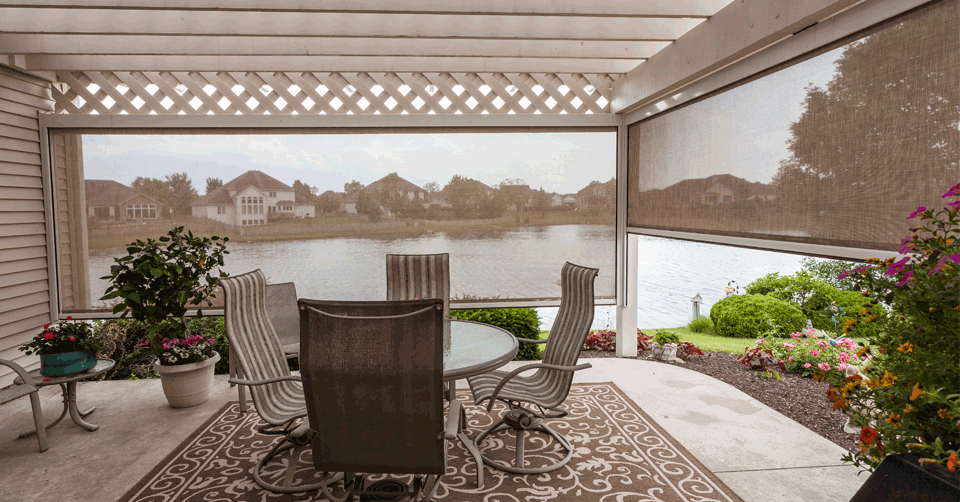 As summer approaches and images of free time and short sleeves fill our heads, we must keep shade within our reach. I know we all enjoy summer but let's face it… most of us run the risk of melting when we spend time in our outdoor spaces.
With motorized shade screens on your side, you can take more time to enjoy your outdoor area by controlling the summer sun.
What Is a Motorized Shade?
Motorized shade screens are a mesh screen used to block out any outside elements so that the time spent under your pergola or patio cover becomes much more enjoyable.
Do you remember the time you were lounging outside and the heat became so unbearably hot you had to go indoors? Have you ever been kicked out of your outdoor space by mosquitos or gnats? Motorized shades work against all of these elements, at the push of a button and can turn your outdoor space into a shaded private retreat.
Screens can be placed on pergolas, patio covers, or even your garage for shade on demand. Each screen is custom-made to fit your space's exact specifications and are available in varying opacity levels so you can get the right amount of shade for your space.
Benefits of Motorized Shade Screens
One of the most critical benefits, especially as we approach the hot days of summer is protection from the sun. UV rays are extremely harmful to your family and your home. These rays cause health issues such as skin cancer and have been known to damage furniture, artwork, rugs, and other outdoor decor.
Even still, UV rays aren't the only outdoor elements with an agenda. Sunsets in this are quite beautiful, but when the sun hits a certain point in the sky, your eyes and your body temperature can suffer.
Motorized shade screens also create privacy even when you're outside. You and your family can enjoy the summer air in your own private retreat. Privacy can be achieved with just the push of a button. Your outdoor paradise can become an indoor lounge area in a matter of seconds.
Screens are great for
Shade
Shelter from light rain and wind
Light reduction
Protection from harmful UV rays
Bug protection
Privacy
What Are You Waiting For?
The time for you to make the switch to motorized outdoor shade is now. This is an investment not only in the quality of your home but also the safety of your family.  At W.A. Zimmer we are dedicated to making this summer your best, and coolest one yet. Contact us today so that you can start enjoying your outdoor space like never before.