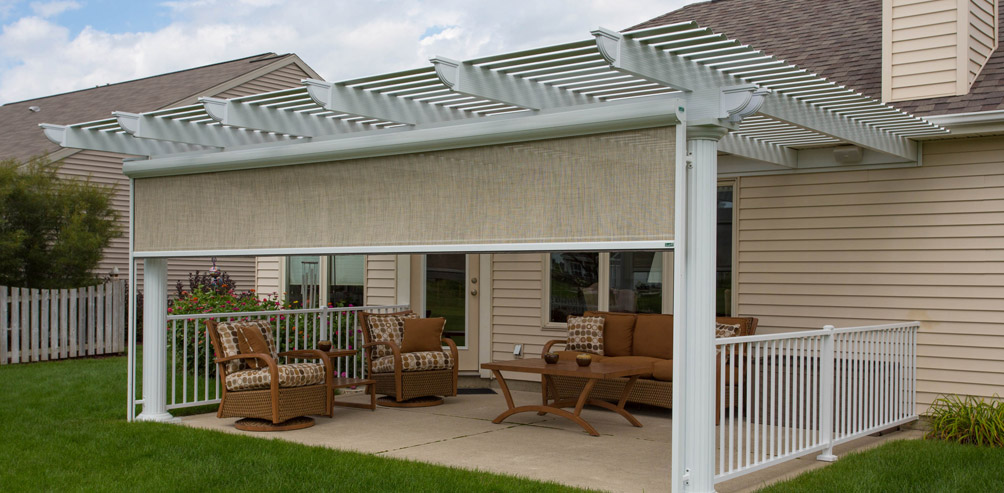 The weather so far in Indiana has been close to 90 degrees! While that means there's plenty of opportunity for fun summertime activities, it also means that you have to deal with incredibly hot (and humid) days. Wondering how you can still enjoy the great outdoors while keeping cool this summer? Take a look at patio shade screens.
Patio shade screens are a great way to block out the heat. Read on to find the many benefits of retractable sunshade screens for your patio!
Temperature Control
Retractable shade screens give you the ability to create a haven away from the direct heat of the sun while you're enjoying your outdoor space. Next time you want to enjoy a casual drink or bite outside with your friends and family, you can reduce the glare from the sun and the heat.
Outdoor shades work with your pergola or patio cover to add even more shade to your patio or deck. When the sun is lower in the sky, simply bring down the shade to help cool your space.
Shaded Protection From UV Rays
Ultraviolet radiation or, UV rays, is a form of electromagnetic radiation that comes from the sun. Too much exposure to such can cause very serious side effects. This includes damage to the eyes, burns, and even skin cancer. The Center For Disease Control highly recommends using sunscreen and limiting your time in the sun.
With retractable shade screens, you can limit the amount of exposure to UV rays you and your family are experiencing. This is a wonderful way to continue enjoying your outside time while protecting yourself and your family from the harmful effects of the sun.
Customizable
Another amazing benefit of these products is that they are very versatile. They are custom made to fit your enclosure and are available in a wide variety of sizes (up to 25 feet long), and come in 25 fabrics and 5 frame choices. You can also add a power motor to open and close your shade screen at the push of a button!
Patio Shade Screens
Patio shade screens have many benefits including temperature control, protection from harmful UV rays, and customizable style. With the help of a great company like W.A. Zimmer, you can find quality products to fit your needs and personal style choices. You'll be on your way to enjoying the great outdoors while keeping your cool.
If you're looking for a way to stay cool this summer, check out our outdoor retractable shades for your covered patio, arbor, pergola, or even garage! Contact us today to get more information about our shade products!