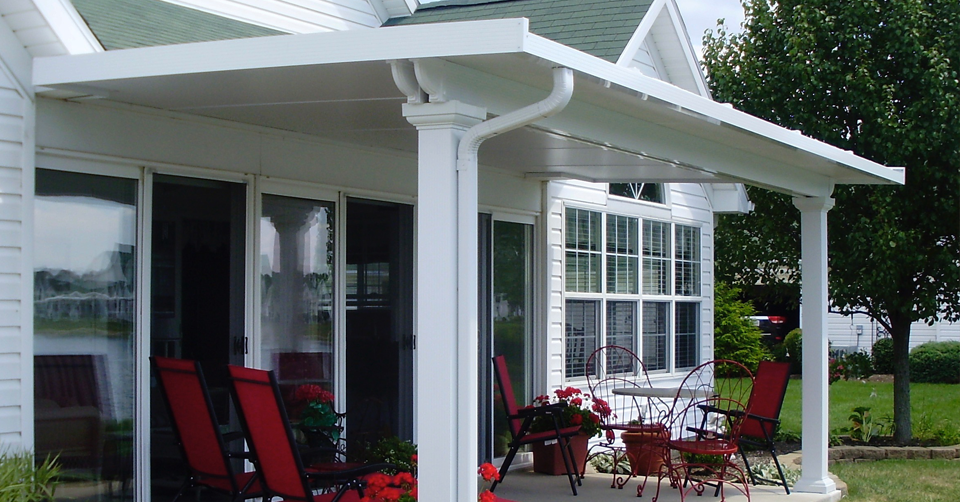 Are you considering a patio cover for your outdoor space?
Patios are a great place for families and friends to get together and hang out.  They're also a great spot for reading, having a barbecue, and even getting work done. But, during the hot summer months, your patio can turn into a sauna! By adding a roof over your deck or patio, you can go from sweltering to shade protecting you and your family from the elements. Patio covers are a great way to keep your patio or deck cooler and you safely protected from damaging UV rays.
Patio covers put a roof over your deck or patio providing it with protection against the harsh summer sun and rain — which we've gotten enough of lately! They turn your outdoor space into an extension of your home and give you a space you love to be.
If you're considering a patio cover, read on for some of our patio cover options.
Patio Cover Options
The Santa Fe
The Sante Fe design features a beautiful, Mediterranean style appearance. It features the louvered roof style of a pergola but combines a solid paneled thermal roof rather than being open at the top.
Support columns with Florentine designs are used to hold the roof up. Retractable screens are easy to install on the Sante Fe, making it a highly functional and beautiful option for those that want to avoid bugs.
The St. Thomas
The St. Thomas is a great option for those that prefer simple and minimalistic patios. It uses a single beam towards the front and features beautiful Florentine columns, just like the Sante Fe.
Along with sharing Florentine columns, the St. Thomas can also have a retractable screen easily installed. This design is perfect for people that enjoy getting the job done while also having a sophisticated patio.
Contemporary Patio Roof
Contemporary patio roofs are influenced by old-style patio covers, but they're much more efficient. Patio covers from the past were often made with a single layer of aluminum that let heat radiate through.
Modernized contemporary patio roofs from W. A. Zimmer make use of multiple layers of aluminum. This prevents heat from radiating through and provides more endurance against the snow.
Operable Pergola
An operable pergola is basically a patio cover and a pergola combined into one. This option gives homeowners the benefits of both worlds. They feature motors that can open or close louvers to go from the partial shade of a pergola to the full shade benefits of a patio cover at the push of a button.
These motorized pergolas still allow for you to decorate them with plants and lighting just like you would with classic pergolas and also support retractable shade screens for added protection and enclosure.
Get Your Patio Cover Today
Every patio cover is unique in design but all have the same purpose, protection from the sun, rain, and even snow.
Consider what you'd like to have on your patio and go over the options. If you'd like to have protection from sunlight, make sure you get a patio with a solid roof. If you'd like protection from insects, get a retractable enclosure.
Ready to get a patio cover on your home? Contact W.A. Zimmer today for a free estimate.