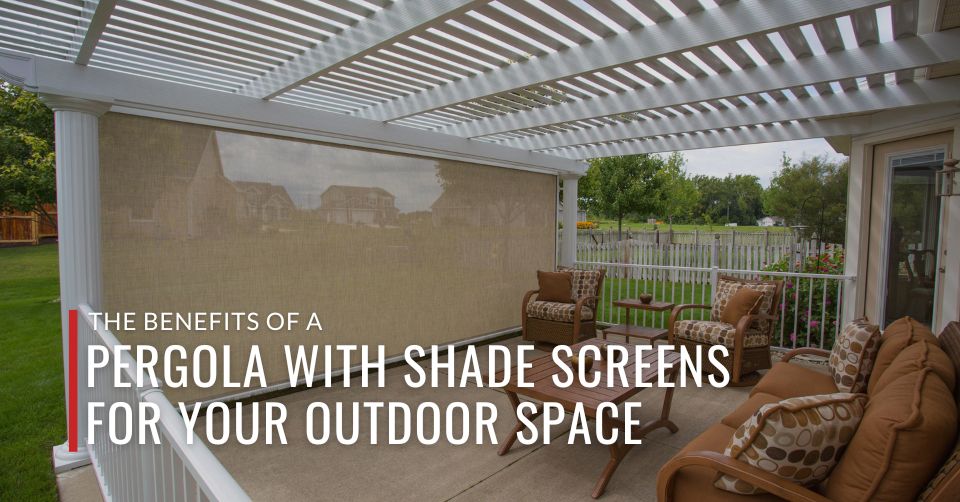 Many of us find ourselves confined within walls more often than we might prefer. Our daily routines often involve hours spent in offices or absorbed by screens at home. When the weather is nice, embracing the outdoors should naturally be our go-to choice.
However, the intense summer sun can prove challenging for some of us. It can transform what should be a relaxing retreat into a scorching hot discomfort zone, making it difficult to fully embrace the joy of outdoor living.
Need help transforming your deck or patio space into a shady outdoor sanctuary? Let us show you how a subtle patio upgrade can significantly improve your quality of life.
Protect Yourself From the Sun
When you add a pergola on your patio or deck, you'll be able to protect yourself from the sun while enjoying the outdoors. Although there's a lot of good that comes from spending time in the sun, there are also risks.
Prolonged UV exposure can lead to a variety of illnesses and diseases, most notably eye problems and skin cancer. A pergola will block a good portion of the UV rays and help control the brightness on your patio.
More Privacy
A pergola is not just an aesthetic feature, it's a versatile addition that can significantly enhance the privacy of your deck or patio. With its lattice design and sturdy structure, a pergola creates a defined space that subtly separates your outdoor area from the rest of the world. This additional layer of privacy invites you to freely enjoy your outdoor moments, whether it's a quiet morning coffee, a midday read, or an intimate evening gathering.
Moreover, a pergola can be customized and accessorized to meet your specific privacy needs. You can choose to have climbing plants or vines adorning its sides and roof, creating a lush green curtain that shields you from prying eyes. Or, adding retractable patio screens to your pergola can create a private sanctuary that blends seamlessly with your home's exterior design. Whether you're in a bustling city or a quiet suburban neighborhood, a pergola can provide that much-desired privacy while still allowing you to relish the beauty of the outdoors.
Fewer Insects
Another benefit of a pergola with retractable shade screens is that it can be a strategic ally in your battle against unwelcome outdoor pests. Indiana and southwest Michigan are rife with insects in the summer months, particularly at night. If you're sick and tired of swatting away mosquitos when you're on the patio, shade screens are your savior. They form a shield that can offer a significant level of protection against an array of insects, from buzzing mosquitoes to curious bees, which might otherwise interrupt your serene outdoor experience.
Retractable patio shade screens not only maintain the openness and airy feel of your pergola, but they also provide the flexibility of choice. You can easily lower them when the bugs come buzzing at dusk or during specific seasons when insects are particularly active. Moreover, these screens can be tailored to complement your pergola, further enhancing its design and function. With a pergola and retractable patio screens, you can savor your outdoor moments with the assurance of a bug-free environment, without sacrificing the charm of open-air living.
Enhanced Versatility for Outdoor Entertainment
A pergola outfitted with retractable shade screens introduces a fresh dimension of versatility to your outdoor area, significantly boosting its potential as an entertainment space. This blend of open structure and adjustable coverage provides the flexibility to adapt to various outdoor activities and gatherings.
Whether you're hosting a brunch, a midday barbeque, or an evening party, a pergola with retractable screens can accommodate your needs. The screens can be adjusted as needed, providing relief from the harsh sun, a shield against insects, or a barrier against a light drizzle. In essence, this adaptable setup ensures that your outdoor space is always ready for entertaining, irrespective of the time of day or the weather.
Boosting Property Value with a Pergola
Adding a pergola with retractable shade screens to your property is an investment that offers tangible returns, in the form of increased home value. This structure enhances the appeal and usability of your outdoor space, which prospective buyers often consider an extension of the home's overall living area.
An attractive and versatile outdoor area can set your property apart in a competitive real estate market, drawing more potential buyers and possibly commanding a higher selling price. A pergola with retractable screens is not just a worthwhile addition for your current enjoyment, but also a strategic upgrade that can increase your property's appeal and value in the long term.
Get the Best Shade Screens in Indiana & Michigan
Now that you understand some of the many benefits of installing shade screens, it's time to start thinking about buying yours. At W.A. Zimmer, we offer outdoor shade solutions that will help shade your and your family enjoy more time outdoors. From pergolas with shade screens to awnings and patio covers, we've got you covered with everything you need to improve your outdoor space.
To peruse our shade products, stop by one of our two Indiana showrooms — in Huntington and Elkhart, or don't hesitate to contact us and we'll bring our products to you!