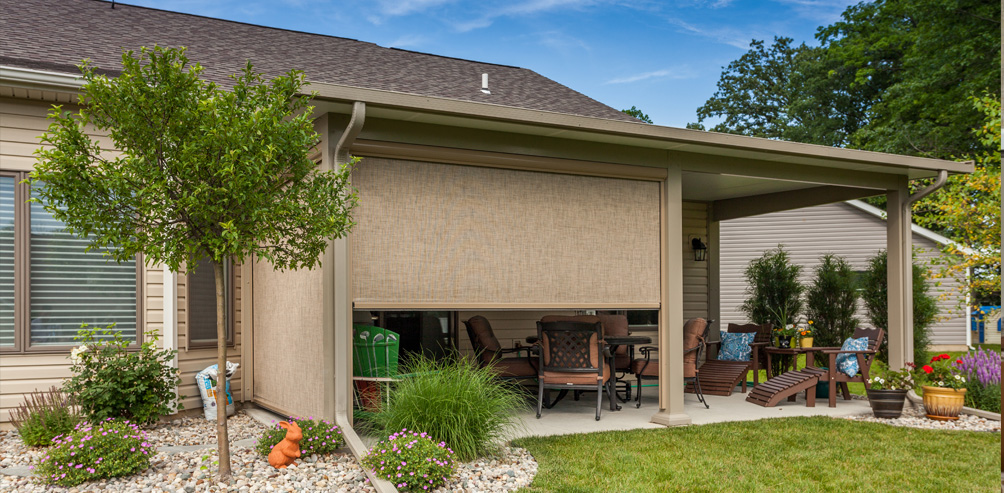 Do you ever find yourself sitting inside, staring longingly at your patio? Do you wish you could use it more often, but harsh evening sunlight and swarms of bugs keep driving you back inside? It sounds like patio shades screen may be the perfect solution to your problem.
Patio covers are a great option to add shade to your patio or deck, but sometimes evening sun can bring blinding sun. These clever motorized screens will transform your patio into a comfortable shady oasis no matter what position the sun is in.
Read on to discover how a shade screen will revolutionize the way you use your patio.
1. Weather Protection
Shade screens allow you to enjoy your patio in comfort, without having to battle the elements. They protect you from the heat of the sun while it's lower on the horizon, as well as harmful UV rays.
Shade screens are made from closely woven fabric. The tighter the weave, the more UV protection the screen offers.
UV protection not only allows you to sit outside without damaging your skin but also protects your patio furniture. The sun's harsh rays cause furniture to become faded and can make the material hard and brittle.
Shade screens are made from durable material, allowing them to withstand prolonged sun exposure as well as rain, hail, and snow.
2. Temperature Regulation
No one wants to be trapped indoors on a beautiful summer day, but the scorching temperatures outside are often too hot to handle. This is where shade screens come in handy.
Shade screens block heat while still allowing air to circulate on your patio. This cools down a shady patio even more.
3. Save Space and Time
Creating shade on your patio used to be a lot of work. By the time you'd maneuvered a heavy, oversized umbrella stand into the right spot, dusted the cobwebs off the fabric, and erected the umbrella, you were exhausted! Large patio umbrella's also take up a lot of storage space.
Retractable shade screens take up almost no space and are super easy to use. Shade screens roll up neatly into a protective housing, making them virtually invisible when not in use. You can even install motorized shades, allowing you to lower and raise your screens from the comfort of your patio chair.
There are various shade screen sizes available, so you can find the perfect fit for your patio. Professional shade screen providers, like W.A. Zimmer, Company in Huntington, IN will expertly install your shade screen, ensuring maximum satisfaction!
4. No More Bugs
There's nothing worse than swatting away bees and flies while you eat. Shade screens provide a protective barrier, preventing crawling, biting, and stinging insects from ruining your meal.
Don't worry, the shade screens won't obstruct the view of your garden. You'll still be able to feel the breeze and admire your flowerbeds.
The open-weave fabric allows plenty of air and light to pass through. You'll hardly notice the screens at all.
5. Privacy
Your patio is your outdoor sanctuary, the place you go to unwind and breathe in the fresh air. The last thing you want is nosy neighbors watching you enjoy your morning coffee or outdoor yoga session.
Patio shade screens offer you privacy, without sacrificing your view. As a result of the unique way the fabric is woven, shade screens allow you to see out while restricting the view of neighbors.
You Simply Can't Go Wrong With a Patio Shade Screen
A shade screen will make your patio cooler, safer, and more comfortable. You'll never want to leave! With a variety of shade screen designs and sizes available, you are sure to fund the perfect screen for your patio cover or pergola.
Contact us today to set up a free shade screen estimate!