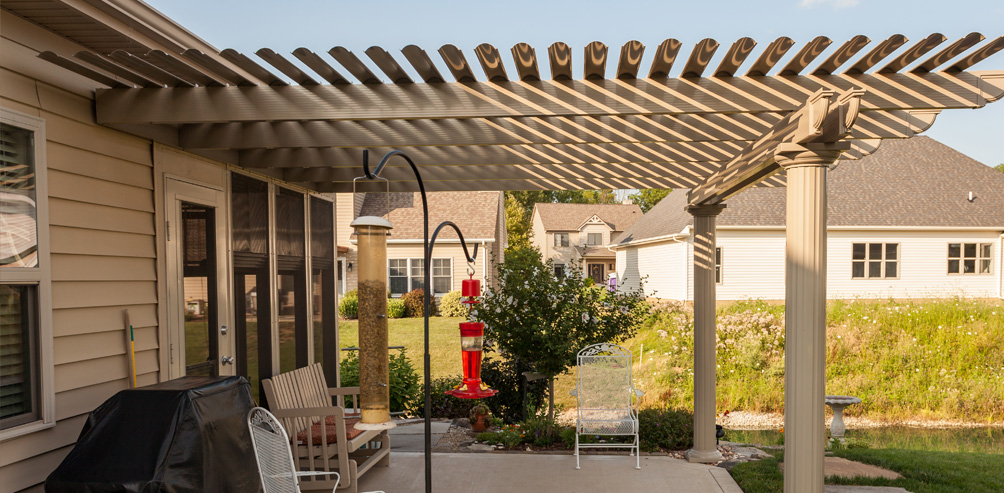 Did you know that 15% of homeowners in recent years have prioritized upgrades to the outdoor areas of their homes? With the recent Coronavirus pandemic, even more people have opted to renovate their outdoor space to be able to spend more time outdoors.
Outdoor renovations can be anything from beautifying your lawns and landscaping to building a deck, installing a pergola, or even spending time on simple maintenance and upkeep.
You may be scratching your head at this point and thinking, what is a pergola? A pergola could be the perfect addition to really spruce up your outdoor space. Keep reading to find out everything you need to know about pergolas.
What Is a Pergola Exactly?
What is a pergola? Let's discuss!
To put it simply, a pergola is an outdoor structure that is built out of vertical beams and roof beams without any walls. A pergola can be customized to just about any space.
The purpose of a pergola three-fold. Pergolas allow you to create a shaded space for your outdoor area while adding some aesthetic appeal to the exterior of your home. It also creates an outdoor space to extend your living area.
Where Can You Put a Pergola?
A beautifully installed aluminum pergola can truly add some charm to your backyard, or your front yard. So, how do you decide where it should go?
The first thing to think about when adding a pergola is your purpose. Do you want to beautify your outdoor space? Perhaps you want to add some shade to a patio or deck or create a shady space in your yard or by the pool. Pergolas can be free-standing or attached to your home.
Why Put a Pergola in Your Backyard?
Now the question begs, why should you put a pergola in your backyard?
First, if you don't have a deck in your backyard then building a pergola is a great way to add a focal point for visitors and family. Your pergola can cover outdoor patio furniture for entertaining guests or even a jacuzzi for more private enjoyment.
Because of the way a pergola is constructed, you can use curtains or drapes to add privacy or add motorized shade screens to keep out the sun, bugs, and added privacy.
A Pergola Will Add Value
There's no doubt that a pergola will add value to your home, particularly if you ever decide to sell.
Many realtors will tell you that having beautiful outdoor structures will add beauty to your home and a certain overall appeal for potential buyers. These beautiful outdoor structures can come in the form of a pergola patio or even a standalone backyard pergola.
Finding The Perfect Pergola
You asked, 'What is a pergola?" And we answered!
There should be no doubt that you can't go wrong by adding a beautiful pergola to the outdoor area of your home. Choose the right materials like extruded aluminum and you won't look back!
Choose the right professional and your pergola installation will be stress-free.