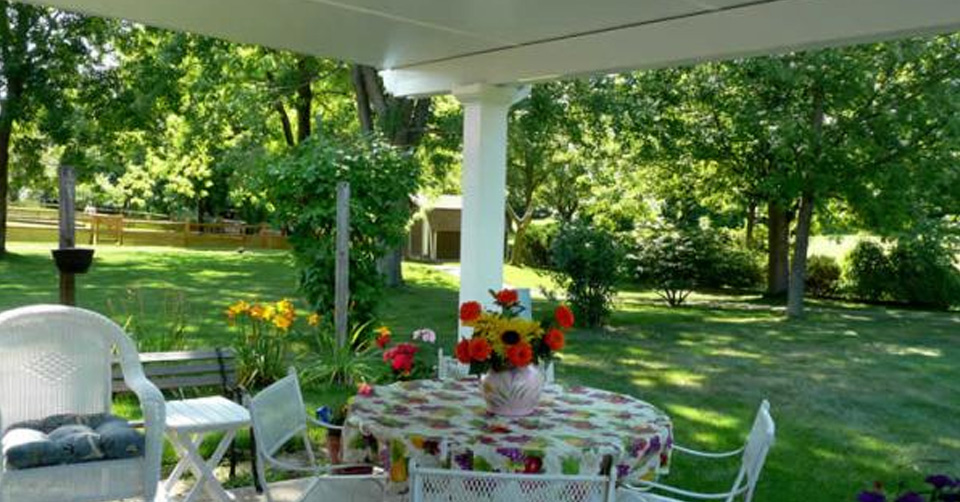 "Summer lovin' happened so fast." After months of spending time indoors during the cold Indiana winters, we can't wait to get outdoors once the warmer weather hits. But with the warmer temps, comes harsh sun and damaging UV rays.
Sunburns happen fast in the heat of summer. It starts out with a warm feeling and sun-kissed glow then quickly turns into stinging, burning skin.
Don't let the harsh summer sun keep you from enjoying the outdoors this summer.  Here are 5 patio shade ideas for your upcoming summer. Make sure you check them out to avoid going through endless bottles of aloe.
1. Stay on Your Terms
We all have those days where all we crave is the bright summer sunlight. Other days, we wish to be outside but away from the harsh UV radiation. Do you wish you could have a balance?
Wish no more because retractable awnings are your new friend for the summer. Whether you keep it manual or take it a step further by adding a motor, an awning you can retract allows you to customize your backyard shade experience.
Retractable awnings are key to the dream outdoor setting!
2. Keep It Natural
The most eco-friendly patio shade is one of Mother Nature's own trees. Large oak trees can be your natural solution to extra shade in the backyard.
Before you cut down these friendly giants, consider building your backyard space around a tree. Create a wooden porch circling the trunk and place cozy outdoor sofas under the branches.
If you want some light to seep through as you enjoy some fresh lemonade, hire professionals to trim the tree for you.
3. Comfort in a Cover
It's a bright sunny morning, and you've just made your eggs and toast for breakfast. You look outside and it's nearly blinding. The morning would be perfect for dining al fresco, but you aren't looking to sweat into your toast.
Luckily, a patio cover can fulfill your patio shade dreams. There are a couple of different options of patio covers to choose from, including a roof option or a carport style. Not only can they shade a sitting area, but they also add beauty to your outdoor space.
4. Make Room
If you really want to take your summer to the next level, invest in building a sunroom. This amazing addition to your house will provide a comfortable space to curl up with a book while being surrounded by natural light without the hassle of applying sunscreen.
A sunroom is also great for the winter too because you can enjoy the natural sunlight with a steaming cup of hot chocolate.
5. Pretty with a Pergola
A pergola is a standing structure that includes columns and open beams at the top. It's great to place over a patio and offers great backyard shade.
To add an extra touch to your pergola, run vines up the columns and across the beams. The greenery will impress any dinner guest over the summer.
Top Patio Shade Ideas
If you're looking for an appealing way to create coverage for your backyard area, make sure to check out the patio shade ideas above! They are sure ways to avoid sunburn while also creating an oasis in your backyard.
Whether it's a pergola or a sunroom, shade doesn't have to be expensive or complicated. You'll be thanking yourself this summer after making the investment.
Are you in need of some shade this summer? Check out our products now.