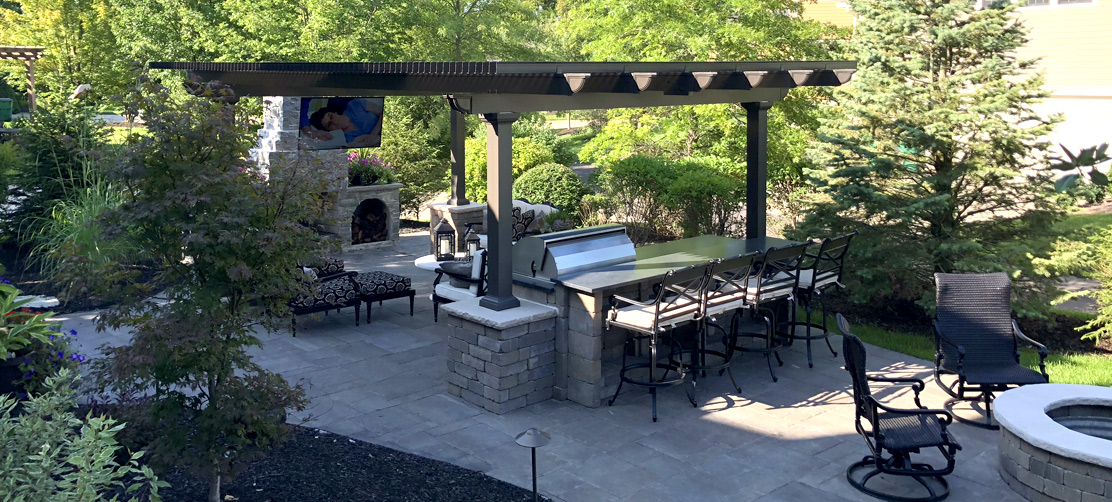 In their recent report, the American Institute of Architects noted that outdoor living spaces remain a popular feature clients request in their home designs. The perfect outdoor oasis doesn't need to be built when your home is built, it can be added anytime. If you're thinking of creating your own outdoor "oasis", check out this guide for tips on building your dream outdoor living space. Follow these steps and you'll have your own cozy retreat in no time.
Steps to Create Your Outdoor Living Space
Outdoor living spaces can do double duty. They can create an attractive haven to entertain guests in a unique setting. They can also be our private refuge to get us closer to nature. There's no better front row seat for watching the transition between seasons then from your outdoor living area.
Whatever your motivation is, try these features to create your new outdoor living area:
Shade Covers
Pergolas, patio covers, and retractable awnings are great for those who want to add a shady spot to their outdoor space.
Pergola outdoor structures use vertical posts and cross beams to create a partially shaded sitting area. Their cross beams and open lattice makes them a unique and beautiful addition to a home. And, their unique lattice design is perfect for climbing plants and greenery. They can also provide a decorative shady spot on a hot summer day.
Patio covers, also known as a patio roof, provide 100% shade and weather protection. They're perfect for areas that get a lot of sun and can provide protection during a slight rain.
Pergolas and patio covers can be attached to your home to provide shade on your deck or patio or can be built free-standing over your favorite spot in your yard. They're also great over swimming pool areas to provide some relief from the sun.
Retractable awnings give you the best of both worlds — sun and shade. With the push of a button, you can cover your patio or deck with shade, then retract the awning when you want a little sun.
Creative Planters and Divider Screens
Planter containers can creatively outline outdoor living spaces. Use old mailboxes or galvanized buckets to outline your patio perimeter. Bring your clever old watering can ideas to life and plant seasonal blooms inside of their opening.
Don't forget to consider a vertical garden as well. A vertical garden screen grows plants on a vertical panel. These panels are either freestanding or attached to a wall. Vertical gardens are great for creating a natural panel of privacy.
Outdoor Patio Furniture
Outdoor furniture plays a major role in the overall design and feel of your outdoor space. Use fade and weather resistant fabrics to keep cushions protected from the elements. These materials can dry faster and resist mildew.
Choose furniture styles, such as rattan, that are durable so you don't have to buy outdoor furniture again in a few years.
Lighting
Your lighting can be key to striking that intimate atmosphere you're looking for. Wall-mounted or overhead lighting fixtures should be made from weather-resistant iron or die-cast aluminum to resist the elements. You can also choose a weather resistant string of café LED lights.
Create Your Space Now
Ready to put your outdoor living space plans into motion? The good news is that you can start today! Many companies offer off-season discounts on outdoor structures. You'll not only save money on your outdoor space, but you'll have it installed and ready for use when warm weather arrives.
Don't forget to check our blog site for more helpful information on such tasks as choosing the best patio furniture. We want your "outside oasis" to be the best that it can be!