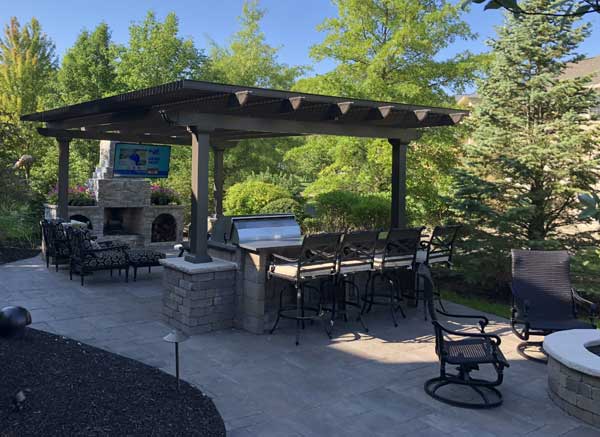 Have a vision for your outdoor space, but don't know how to implement it? Call us!
Want to do something cool with your backyard, but don't quite know what? Call us!
Whether you have a clear vision or just a general idea, we're here to make your new living space spectacular—at an affordable rate.
Having countless options can make it tricky to make a decision sometimes, so we want to brainstorm with you to make sure you get exactly what you want. This may be your first backyard or add-on project, but we've been at this for over 40 years and know the inside scoop on some of the benefits and pitfalls you may not yet be aware of.
Take floor height, for example. Let's say that instead of your new attached room being the same floor height as your house, you'd prefer to step down into the new space. With that option, it turns out we must first consider the roof style you want as well as the height of your existing house windows. Also, think about the people who live with you or who will visit you. Will they have trouble negotiating steps? We like to dig into all the potential pitfalls ahead of time in order to deliver nothing but benefits.
Of course, floor height is just one issue. We also need to talk about the pros and cons of various floor materials. Would it be better to go with concrete or wood? Tile or carpet? Should we insulate it? Heat it? By truly co-creating your vision together, we can ensure we're on track to make life better for you and your loved ones by building an exciting new living space suited specifically for your wants and needs.
Creating Your New Space
Whether you want a sunroom, screen room, attached or detached pergola, patio cover, solarium, hot tub room, or something entirely unique, you don't have to make all the decisions on your own—nor should you! Our designers are here to co-create with you and make sure you understand why some details may have to be tweaked a little here and there to remain structurally sound.
We want your project to blend flawlessly with your home and lifestyle. We've been doing this for over 40 years, and we love what we do. Please send us your pictures and ideas and schedule an appointment for a free in-home consultation so we can, together, get started on creating the living space you've always dreamed of!